PNutty Mix Toasted and Salted
Select Packaging ...
Gift Tin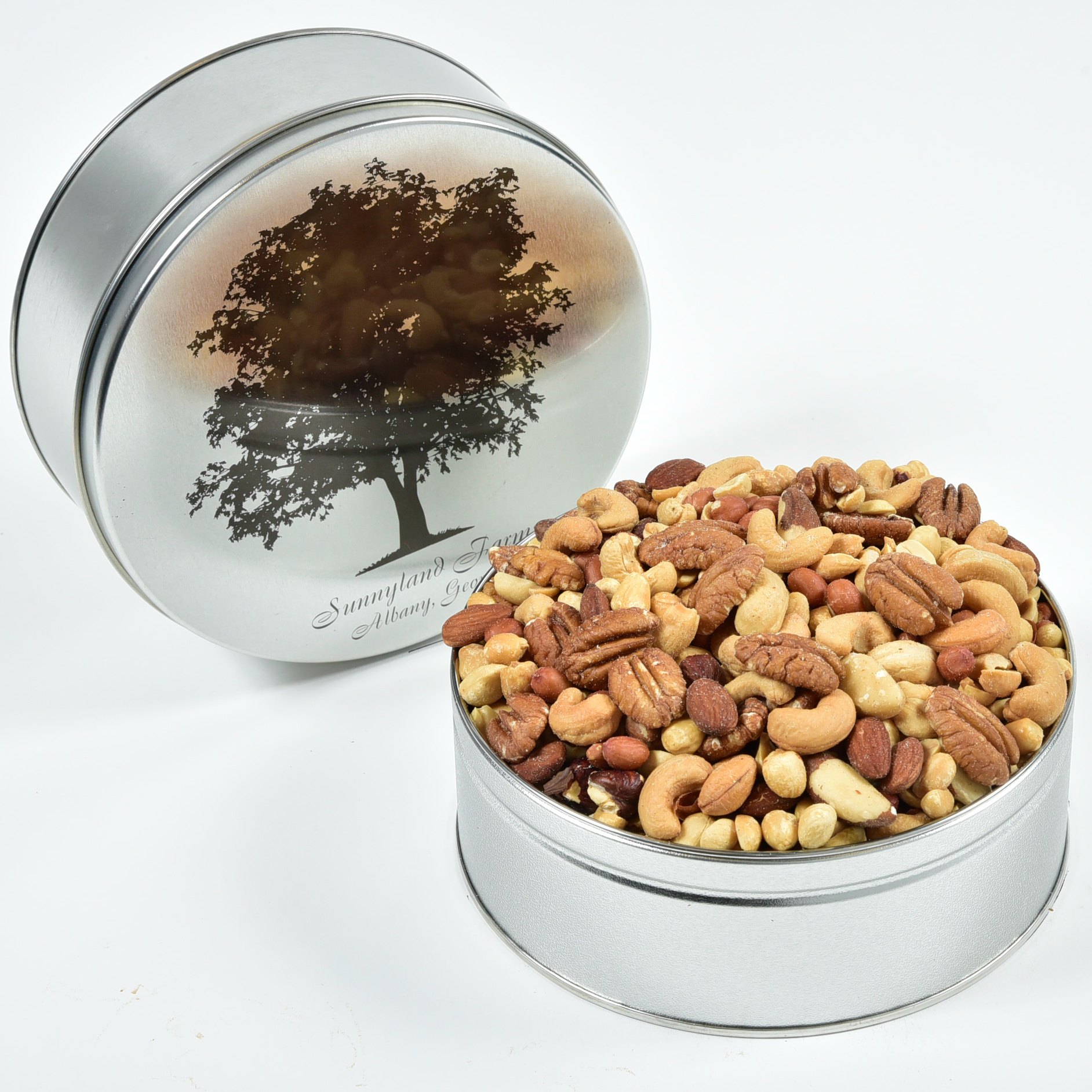 Home Box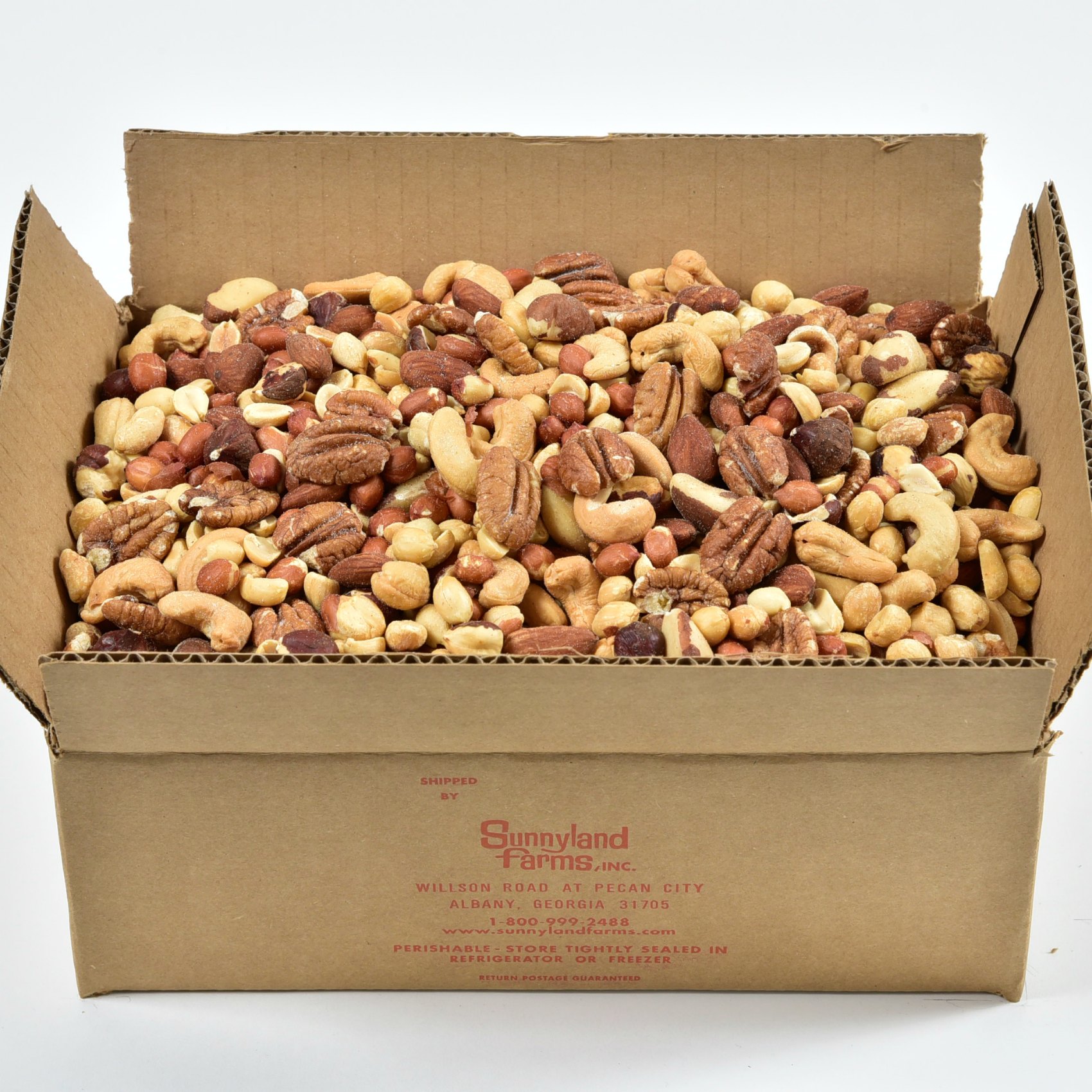 1-Pound "D-I-Y" Bags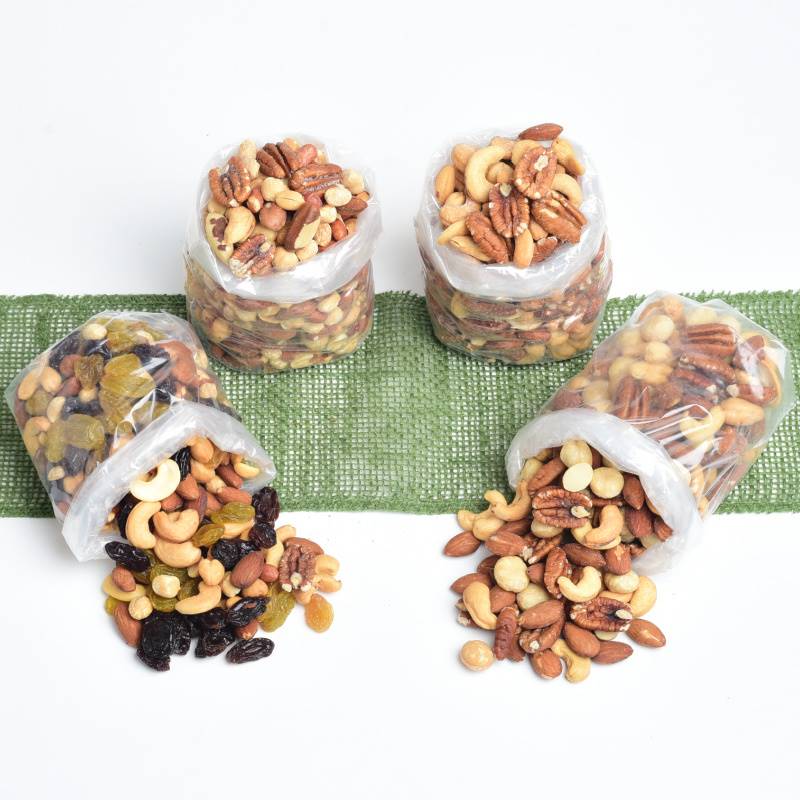 Gift Tin
#4263 - - Case of 4 #263 - 7lb total
#9263 - - Case of 9 #263 - 15lb 12oz total
Home Box
#4264 - - Case of 4 #264 - 10lb total
#9264 - - Case of 9 #264 - 22lb 8oz total
#4265 - - Case of 4 #265 - 16lb total
#6265 - - Case of 6 #265 - 24lb total
Our "Do-It-Yourself" bags are one of the most popular ways to try new products and to restock old favorites. Mix and Match any way you choose.
Nutty Goodness
A super tasty, deluxe mix of fresh nuts. We blend our finest Virginia Peanuts and our Redskin Spanish Peanuts (20% each) with our best-selling Royal Mix: (Jumbo Cashews, Mammoth Pecan Halves (a lot of pecans!), Extra Fancy Nonpareil Almonds, Tiny Brazil Nuts and Jumbo Hazelnuts). Kosher certified.
More arrow_drop_down arrow_drop_up

Product Description

A delightfully yummy deluxe mix. Our Toasted and Salted P'Nutty Mix blends some of our finest fresh nuts including: Virginia Peanuts, our Redskin Spanish Peanuts (20% each), and our ever-popular Royal Mix (which contains Nonpareil Almonds, Mammoth Pecan Halves (lots of Georgia grown pecans!), Jumbo Cashews, Jumbo Hazelnuts, and Extra Fancy Tiny Brazil Nuts)

"I am writing to let you all know how very pleased we have been with the boxes of P''Nutty Mix for Christmas. Everyone has enjoyed and expressed great pleasure in being the receiver and all said that the boxes contained a lovely assortment from top to bottom. Thank you so much for all your great effort." Eleanor Evans, Orangeville, PA

Packaging Options

Our P'Nutty Toasted and Salted Nut Mix comes in a variety of packaging options to best suit your needs. Our gift tin selections are perfect for a wide range of occasions, from corporate to personal. Looking for the most bang for your buck? Then choose one of economical home boxes. All packaging comes individually or by the case to truly maximize the savings. And of course, free shipping has always been our standard at Sunnyland Farms so there are never any surprises at checkout.

Mixed Nuts Beyond Our Toasted and Salted P'Nutty Mix

Would you like to see more mixed nuts? We have an assortment for your enjoyment!
Nutritional Information arrow_drop_down arrow_drop_up
Additional Information arrow_drop_down arrow_drop_up

| | |
| --- | --- |
| Packaging | home box / bulk, signature tin, gift tin, 1-pound bags |
| Ingredients | pecans, almonds, peanuts |
| Specialties | salty, kosher, toasted, gift |
FAQ arrow_drop_down arrow_drop_up

What does the "P" in Pnutty Mix mean and how is it different from an assortment of nuts?

Pnutty has peanuts in the mix. It consists of Pecans, Cashews, Almonds, Brazil Nuts, Hazelnuts, Runner Peanuts and Spanish Peanuts. This mix has 7 different nuts total.

Royal Mix has 5 nuts - Pecans, Cashews, Almonds, Brazil Nuts and Hazelnuts
Heavenly Mix has 4 nuts - Pecans, Cashews, Almonds and Macadamias
Related Products