Home
/
Pecan News & Blog - Pecan Industry Updates
---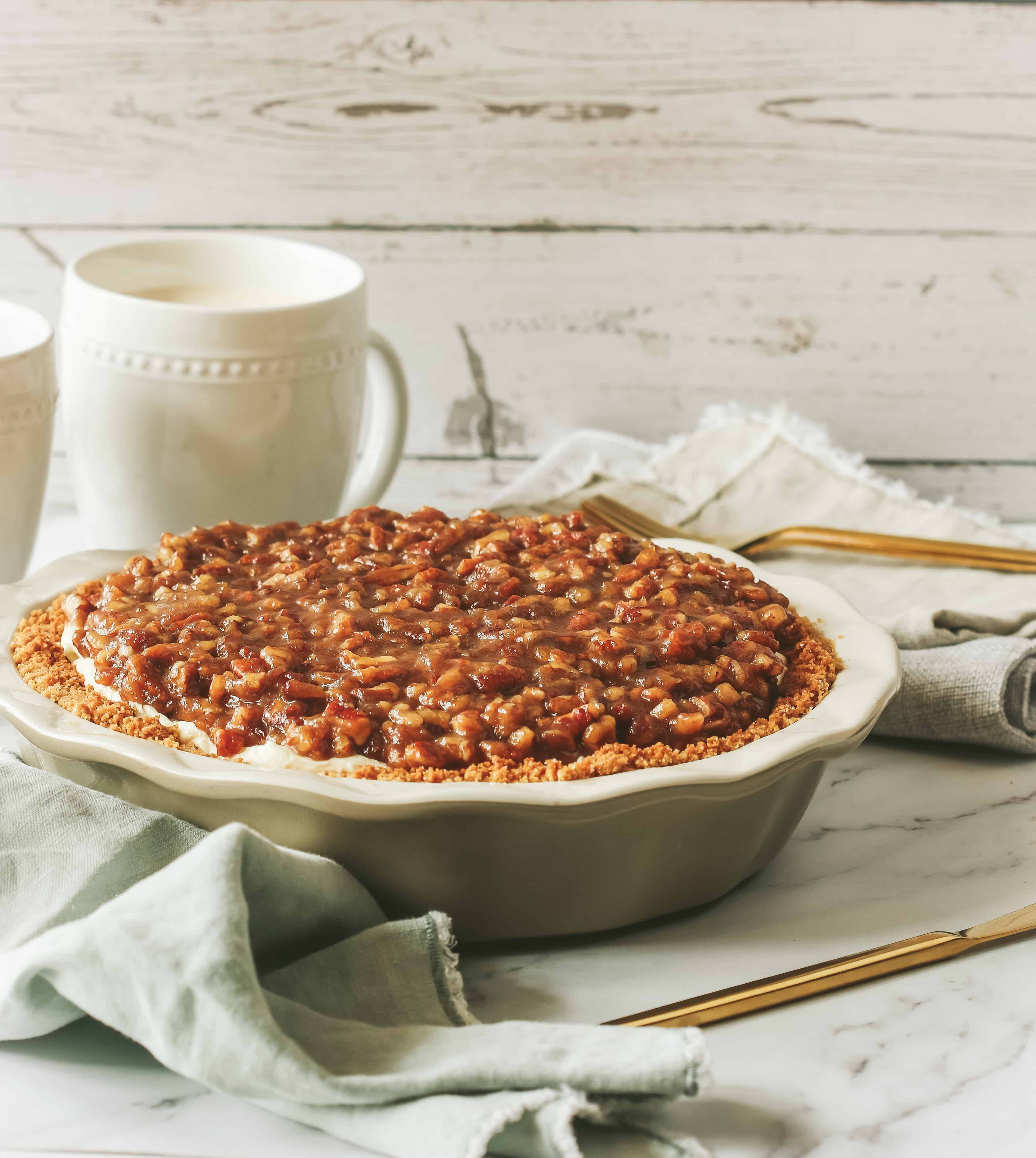 Enjoy this post and recipe by our partner, Regan Jones, RDN, ACSM-CPT.
Cheesecake was always a Christmas tradition when I was growing up. Over the years, my family abandoned that tradition … and I'm not exactly sure why.
Maybe it's the perceived extra-effort of a cheesecake – the water bath, baking, watchful waiting to see if the top will crack. Or maybe the dessert table has just found itself full of other yummy goodies. No matter the reason, I'm declaring today the day I bring back the Christmas cheesecake.
But I'm bringing it back with a modern "no bake" easy twist and a delicious "pecan pie" upgrade.
First up, let's talk about "no bake" cheesecakes:
How is no-bake cheesecake different from baked cheesecake?
Well aside from the obvious (it doesn't have to be baked), the most notable difference is the density. A baked cheesecake typically contains almost twice as much cream cheese and will also contain eggs that help "set" the cheesecake when baked.
But that process can be a little fickle, especially if you're not a skilled cheesecake maker. This no bake version is superbly easy. You simple beat together cream cheese with sugar and then fold in whipped topping. It creates a firm, but lighter cheesecake filling.
If no bake cheesecake doesn't have eggs, how does it "set"?
This is one area where that famous whipped topping in the container does a lot of the handiwork for a no bake cheesecake. The filling would likely set regardless, simply because the cream cheese is firm at room temperature. Adding the whipping topping not only helps build a more substantial filling, but also helps provide stability to the cheesecake itself.
Does no-bake cheesecake taste better?
This is clearly a matter of personal preference. If you tend to like lighter, creamier desserts, I suggest no bake. If you like dense, thick textures, a traditional cheesecake may be the best route. Regardless of which you choose, though, I can promise you this pecan pie topping is an absolute must to top your cheesecake with.
But before we talk too much about the topping, let's talk about the crust.
You'll see in the recipe below that you technically do "bake" the crust. But here's the thing – you don't HAVE to. If you want to purchase a premade graham cracker crust, go for it. I don't personally view the "no bake" portion of this recipe as related to the crust. The desire to avoid having to bake a cheesecake usually centers around the temperamental nature of the actual cheesecake filling itself.
And while the ease of this no bake cheesecake filling is enough to put it at the top of your holiday dessert list, the pecan pie topping is what will have your guests coming back for more. Many of us associate pecan pie with Thanksgiving. That's a tradition I certainly wouldn't tamper with. But taking that sweet, crunchy, and rich pecan pie filling (made the absolute best it can be by using high-quality Sunnyland pecans) and piling it high over a cheesecake base renders a two-tiered dynamic duo that can't be beat. Creamy cheesecake meets sweet pecan pie. It's like two desserts in one, but even better!
Now that I think about it, maybe losing that tradition of a plain cheesecake isn't so bad after all, especially when there's a new dessert like this taking its place.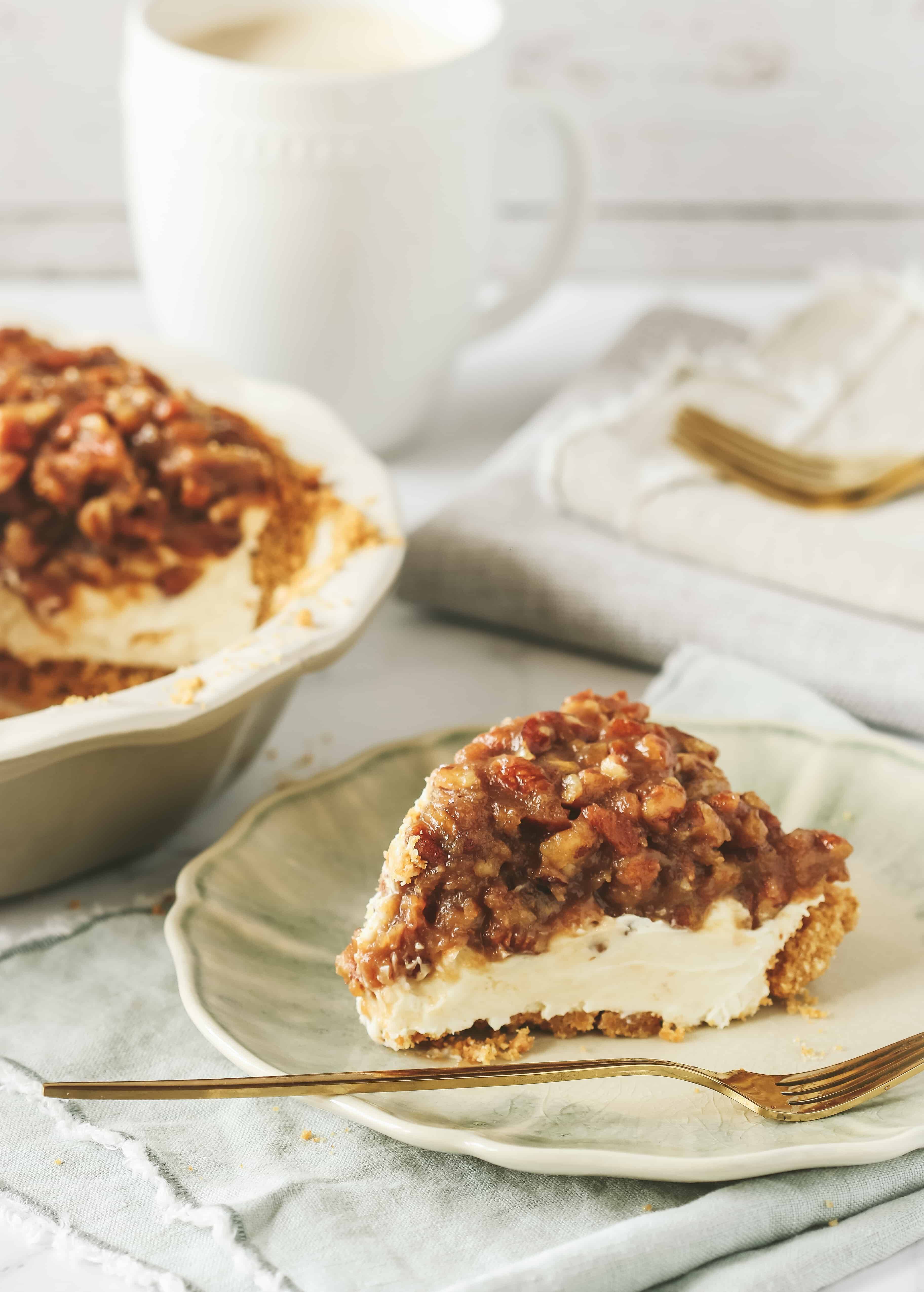 No-Bake Pecan Pie Cheesecake Recipe
CRUST (alternatively, you can use a premade graham cracker crust)
Cooking Spray
1 1/2 cups finely ground graham cracker crumbs
1/3 cup sugar
6 tablespoons butter, melted
FILLING
2 (8-oz.) packages cream cheese, softened to room temperature
1 cup sugar
3 tablespoons vanilla extract
1 (8-oz.) container frozen whipped topping (such as Cool Whip®), thawed
TOPPING
3 large eggs, at room temperature
2/3 cup brown sugar
1/2 cup honey
1/4 cup (1/2 stick) butter
1/4 cup heavy whipping cream
1 teaspoon vanilla extract
Pinch of salt
Prepare the crust: Position rack in center of oven, and preheat to 325 degrees F. Coat a 9-inch pie plate with cooking spray. Stir together graham cracker crumbs, sugar, and butter in a mixing bowl until well blended. Press mixture into bottom and up sides of prepared pie plate. Bake in preheated oven until just firm, about 10 minutes. Remove, and let cool completely.
While crust cools, prepare the filling: Add cream cheese, sugar, and vanilla to a large bowl; beat with an electric mixer until smooth and creamy. Fold in whipped topping. Pour mixture into cooled crust, smoothing filling evenly to edges of crust. Refrigerate while you prepare topping.
Prepare the topping: Crack eggs into a medium-sized bowl, and beat well with a fork or whisk. Set aside. Stir together brown sugar, honey, butter, and cream in a medium-sized saucepan. Bring to a boil over medium-high heat; boil 1 minute. Turn off heat. Slowly stream 1/2 cup hot sugar mixture into eggs, whisking constantly. Slowly stream egg mixture back into pan with remaining sugar mixture, whisking constantly until smooth. Stir in Sunnyland Farms small pecan pieces, vanilla, and salt. Return to a boil, and boil 1 minute, stirring frequently. Set aside, and let cool 30 minutes, stirring occasionally.
Remove cheesecake from refrigerator, and top evenly with topping. Refrigerate at least 1 hour or until ready to serve.