Home
/
Pecan News & Blog - Pecan Industry Updates
---
Maybe it's because I'm an early riser, or maybe it's just my love of breakfast itself. But when holidays arrive, one of my favorite things to do is cook a special breakfast for my family. Truthfully, the tradition of creating a special holiday breakfast started when my kids were little. Breakfast (and brunch for that matter) has always been the meal my kids seemed to enjoy the most. Furthermore, basic buttermilk pancakes have always topped the list of breakfast menu items they liked the best. But this year, I've given the basic pancake a serious Thanksgiving upgrade and created these Pumpkin Pecan Pancakes.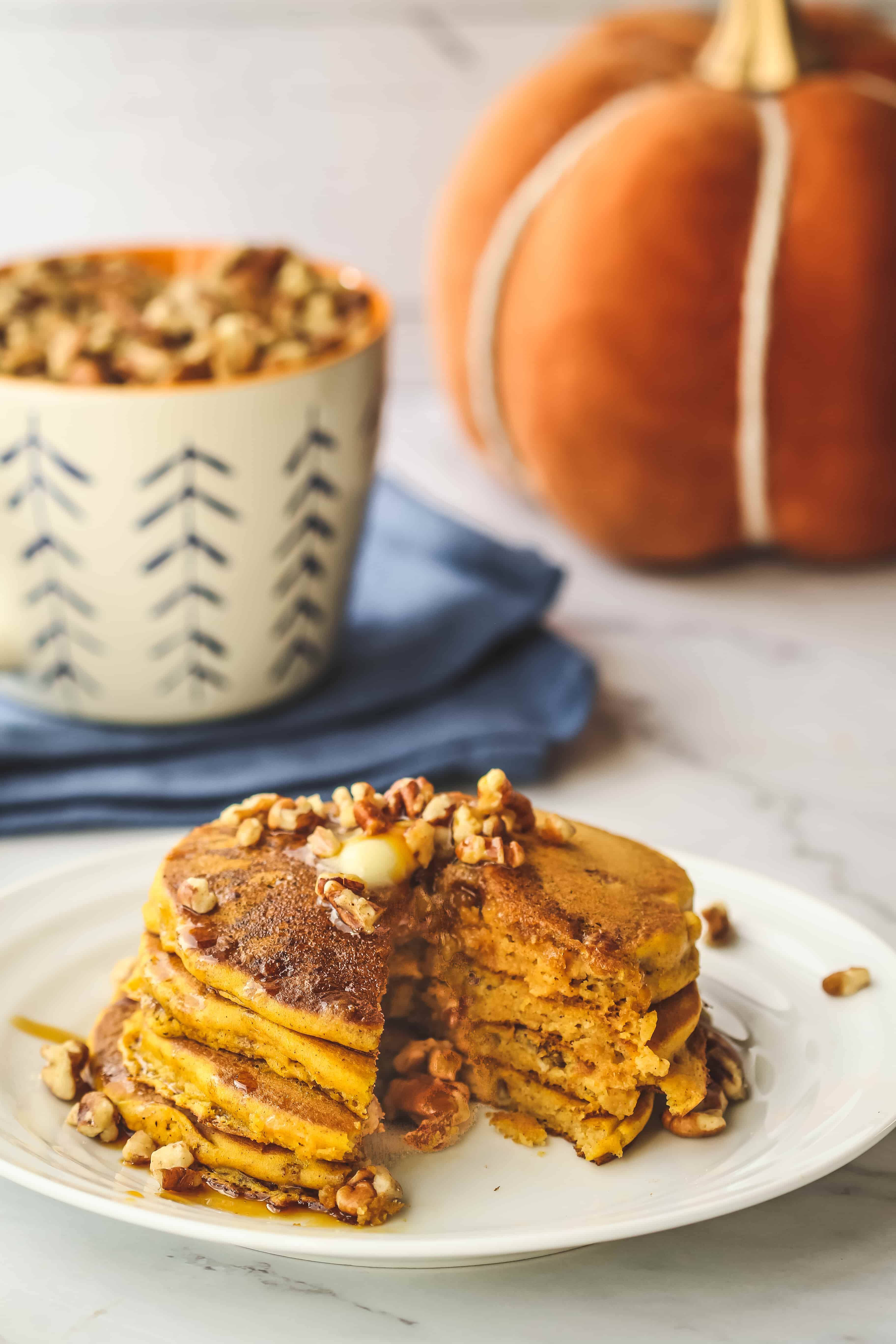 Amazingly fluffy and tender (through the addition of canned pumpkin to the batter), irresistibly seasonally spiced (through the addition of pumpkin pie spice), and satisfyingly nutty (through the addition of Sunnyland Farms pecans), these pancakes taste like a big bite of Thanksgiving inspiration. The first time I served them to my boys, I got universal applause and thumbs up "make these again!"
3 Tips For The Perfect Pumpkin Pecan Pancakes
I've found the keys to making these pancakes the tastiest they can be are three-fold:
Don't use old pumpkin pie spices. Spices lose their "zing" if they've been sitting in your cabinet for a while. If it's been a year since you used your jar of pumpkin pie spice, grab a new bottle at the store. It makes a world of difference.
Let your pancake batter rest. The magic "lift" in pancakes happens in a two-step process – first, when you mix the batter to combine the buttermilk and baking soda, and second, when the batter hits the hot griddle. It's this first step that resting the batter really helps maximize.
Use high-quality ingredients. Pancakes are a relatively humble invention, when you think about it. A little flour, buttermilk, eggs, and leavening plopped onto a hot griddle always seems to work for basic pancakes. But if you want a "Thanksgiving-morning-worthy" showstopper, it's the addition of pumpkin and high-quality Sunnyland Farm small pecan pieces that sets these pancakes apart.
Using Sunnyland Farms pecans ensures a yummier plate of pancakes, because their pecans are straight from the orchards of Albany, Georgia – the pecan capital of the world. Sunnyland is unique in that they are both a farm AND manufacturer, ensuring that every product is managed on site with close attention to detail. It's that level of excellence and quality that ensures your Thanksgiving breakfast this year will be the best it can be.
Pumpkin Pecan Pancakes Recipe
1 1/2 cups all-purpose flour
3 tablespoons brown sugar
1 tablespoon baking powder
1 teaspoon baking soda
3/4 teaspoon salt
1 1/4 teaspoon pumpkin pie spice
2 large eggs
1 1/2 cups buttermilk
2 tablespoons water
1 cup canned pumpkin (from 1 [15-oz.] can)
1/4 cup olive oil
1 teaspoon vanilla extract
1 cup Sunnyland Farms small pecan pieces
Toppings: maple syrup, butter, small pecan pieces
Whisk together flour, brown sugar, baking powder, baking soda, salt, and pumpkin pie spice in a large bowl. Set aside.
Whisk together eggs, buttermilk, water, pumpkin, oil, and vanilla in a medium bowl. Gradually stir buttermilk mixture into flour mixture until just combined; stir in pecan pieces. Let stand 5 minutes.
Heat a nonstick griddle over medium. Working in batches, pour about 1/4 cup batter per pancake onto griddle. Cook until tops have a few bubbles and edges look dry and cooked, 3 to 4 minutes. Flip pancakes; cook until puffed and thoroughly cooked, 3 to 4 minutes. Transfer to a plate; repeat process with remaining batter. Serve immediately with maple syrup, butter, and additional small pecan pieces.