Sunnyland Farms Coupons and Promos
---
At this time, we don't have any coupons (despite what third-party coupon websites say!).
Please note we have had several counterfeit websites falsely advertise discounts and sales for our product. We do NOT sell or provide discounts on party websites such as Ebay, Shopify, Etsy, or Amazon. The only place online to purchase Sunnyland Farms products is here on this website.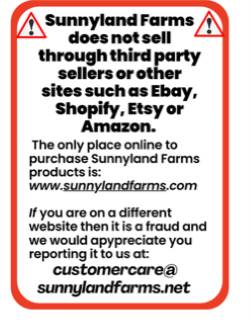 In lieu of coupon codes, we always offer free standard shipping. No minimum spend is required, and no coupon code is needed to get free shipping on every order, every time.
When do you offer coupons?
A few times a year, we offer coupons. When that happens, we announce them on our website, on social media, and in our emails. The best way to get notified is to follow us on social media, and sign up here today to get notified:

Why Shop at Sunnyland Farms?
At Sunnyland Farms, we work hard to make sure you get the best product on the market. When we say "Only the Best," this means:
You can count on excellent customer service and quality: We don't cut corners, and we don't skimp on quality. We back up that promise. If you have anything less than a great experience or are unsatisfied with your products, let us know and we will make it right. Our friendly call center staff is available if you have any questions or concerns.
Prices that reflect quality U.S.-grown products (brought to you by long-time workers paid living wages): many of our team members have been with us for 25 years or more. Learn more about what goes into pricing pecans and nuts and how they are sold from tree to harvest to your door.
A family-owned business since 1948: as a third-generation family-owned business, we have always made relationships, service, and quality our top priorities. Our business sits on our 1,760-acre pecan farm, allowing us to keep our gourmet nuts, nut mixes, and goodies as fresh as possible.
We are grateful to you, and to our fantastic customers all around the world!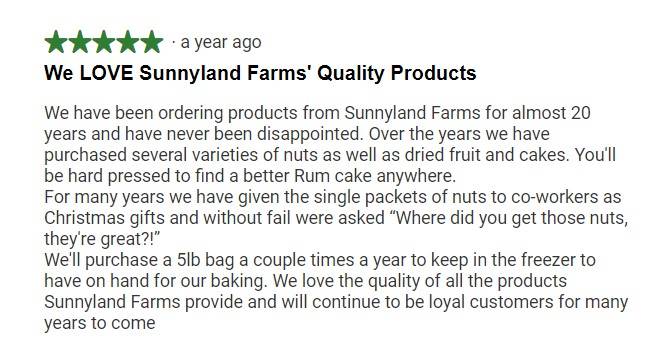 Browse any of our products to check out more reviews from happy customers. Shop today!