---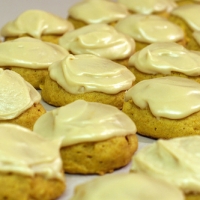 No reviews yet. To leave a review, please log in.
Ingredients
1/2 cup shortening
1 cup sugar
2 eggs, beaten
1 cup pumpkin, canned or fresh cooked
2 cups flour, sifted
2 tsp. baking powder
1 tsp. salt
2 1/2 tsp. ground cinnamon
1/2 tsp. ground nutmeg
1/4 tsp. ground ginger
1 cup Sunnyland Raisins
1 cup Sunnyland Small Pecan Pieces
Instructions
Cream shortening; gradually beat in sugar. Add eggs and pumpkin; mix well. Sift flour, baking powder, salt and spices together; add to pumpkin mixture; mix well. Add raisins and nuts.
Drop by heaping teaspoon onto greased cookie sheets; bake at 350° about 15 minutes. (until firm to touch). Remove from sheets; cool. Yield: 4 dozen.
For the icing, combine 2 cups confectioners' sugar with 1 Tbsp. EACH lemon juice and grated lemon peel. Add just enough cream to make icing spreadable.
Recipe Picture from recipebridge.com
Customer Reviews (0)
Products Used