---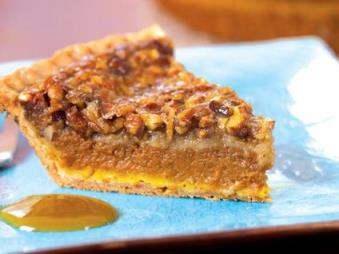 No reviews yet. To leave a review, please log in.
Ingredients
3 eggs, slightly beaten
1 cup canned or cooked mashed pumpkin
1 cup sugar
1/2 cup dark corn syrup
1 tsp. vanilla extract
1/2 tsp. ground cinnamon
1/4 tsp. salt
1 (9") pastry shell, unbaked
1 cup Sunnyland Small Pecan Pieces
Whipped cream for topping
Instructions
Combine eggs, pumpkin, sugar, corn syrup, vanilla, cinnamon and salt; mix well.
Pour into pastry shell.
Top with pecan pieces.
Bake at 350° for 40 min. or until knife inserted in center comes out clean.
Chill. Serve topped with whipped cream. Yield: one 9" pie.
Recipe Picture from southernfood.about.com
Customer Reviews (0)
Products Used