Home
/
Pecan Post
/ Valentine's Day at Sunnyland – Our Gift Guide for Him, Her, and Everyone
Valentine's Day at Sunnyland – Our Gift Guide for Him, Her, and Everyone
Valentine's Day at Sunnyland is of course all about Chocolate and Pecans, Pecans and Chocolate, and Chocolate and Pecans.

We have Choco-Pecans, Chocolate Pecan Clusters, Milk Chocolate Pecan Bark, and Dark Chocolate Pecan Bark, down to our famous Milk Chocolate Toffee. Whatever your sweetie loves, we are sure to have plenty of. See below for our full Sunnyland Valentine's gift guide.
Gourmet Valentine's Gifts For HER
We know that sometimes it's difficult to know what she REALLY wants and we are here to answer…she REALLY wants our Sunnyland Cluster Duet. She can choose between our Milk Chocolate Pecan Cluster and our Dark Chocolate Pecan Cluster gift tin, the best gift for her around.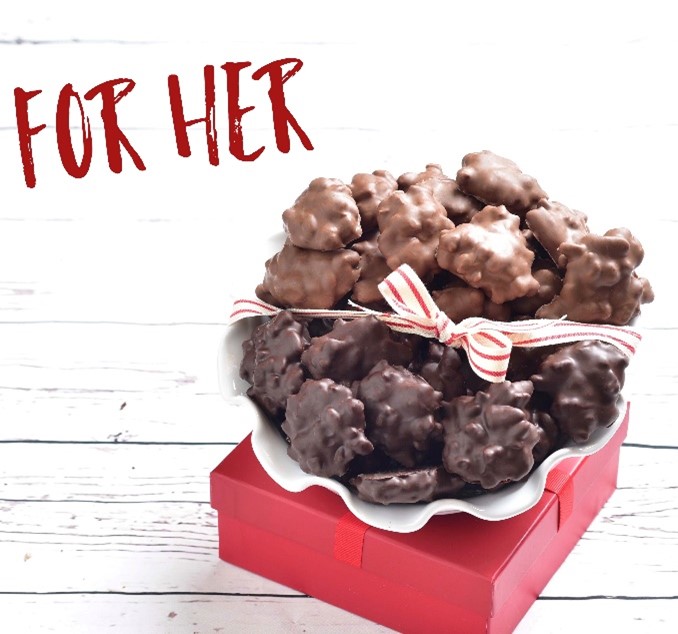 What Customers Say:
"Bought 4 tins for family and friends, they were all ecstatic! I was bad and bought a couple for myself! You can't keep your hands off them!"
"They were deliciously fresh and the chocolate was creamy and of the highest quality! I will be ordering the chocolate covered pecans again"
"Chocolate covered pecan Heaven! Love the choco pecans, the packaging is wonderful even though I can sit and eat bag after bag. Each choco is just the right size and has just the right amount of chocolate on each pecan inside so you can't each just one"
Gourmet Valentine's Gifts For HIM
It might be even more difficult to shop for HIM on Valentine's Day, and Sunnyland has the perfect answer. Our Toasted Salted Mammoth Pecan Halves and our Artisan Beef Jerky are just the ticket. Our world-famous pecan halves are the best of the best and hand-selected to be the very best pecans you will find anywhere. Our new Artisan Beef Jerky isn't the kind you'll find in the grocery store, this jerky is tender and spicy and hands-down delicious. The perfect way to say "I Love You" in a gentlemanly way.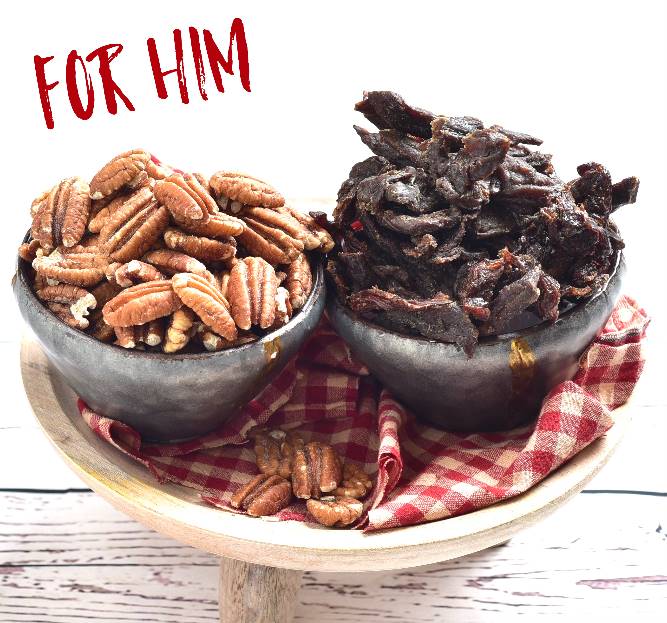 What Do Our Customers Say?
"Bought this jerky for the first time a couple months ago for my husband. He barely got any, I think I ate most of it!! We've found out favorite jerky, and have purchased more so he can actually have some! We won't be buying anything but Sunny land!!"
"My husband says your Toasted and Salted Pecans should be outlawed! It's only 24 hours since they arrived and already there's more than a pound missing. Fantastic!"
Delicious Valentine's Gift for the Family
We also love gifting for the entire family on Valentine's, where each family member gets something that will suite their fancy. Our Limited Edition Sunnyland Valentine's Sampler is the perfect shareable treat to share with teachers, family members, and friends alike.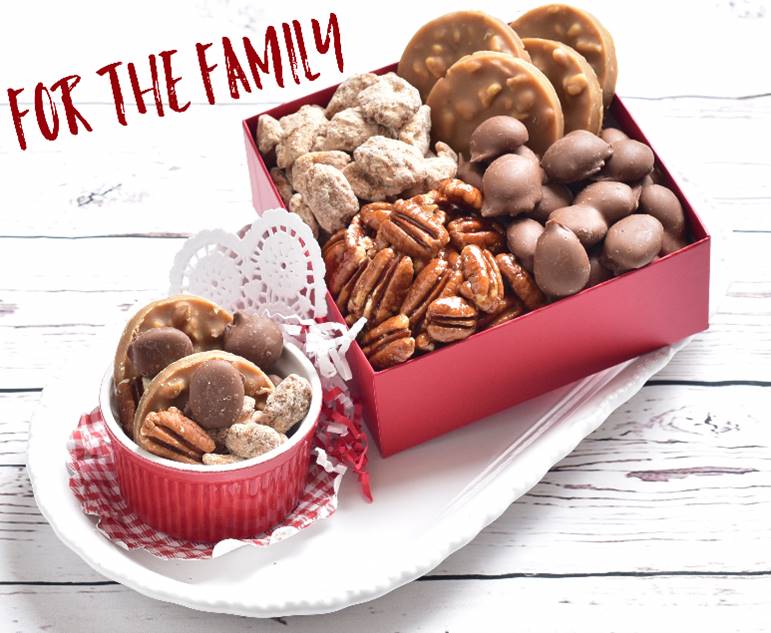 What Our Customers Say…
"The pecan pralines are so, so delicious!! The pecans are so fresh and the praline candy is rich and tasty. I would highly recommend these pralines!!"

"Wow! I just opened my tin of Honey Kissed roasted pecans and they are FABULOUS! This was my first order from Sunnyland Farms but it certainly won't be my last! Simply delicious!"

"I've ordered several times in the past and have loved everything they sent. I was glad to see they still have my favorites - glacee apricots and cinnamon pecans! My order was delivered exactly as scheduled, the week before Christmas. That alone was a feat this year!"
Decadent Valentine's Gifts for Anyone (and Everyone!)
Above all, if you just can't decide on what delicious candy will please, our ChocoPecans are the perfect gift for anyone. Combining our wonderful Sunnyland Pecans and the best milk chocolate anywhere is the perfect way to say "I love you" this Valentine's Day.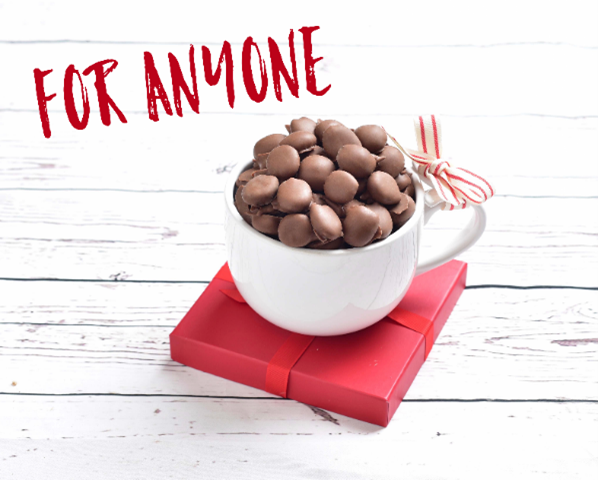 What Customers Say:
Bought 4 tins for family and friends, they were all ecstatic! I was bad and bought a couple for myself! You can't keep your hands off them!
They were deliciously fresh and the chocolate was creamy and of the highest quality! I will be ordering the chocolate covered pecans again.

Chocolate covered pecan Heaven! Love the choco pecans, the packaging is wonderful even though I can sit and eat bag after bag. Each choco is just the right size and has just the right amount of chocolate on each pecan inside so you can't each just one