Home
/
Pecan News & Blog - Pecan Industry Updates
/ Thoughts on the Past Year and the Upcoming Harvest Season
Thoughts on the Past Year and the Upcoming Harvest Season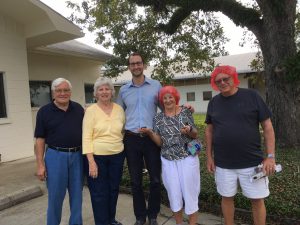 As we begin our new pecan harvest season I think it's a great time to take a look back at the previous year and examine all that has occurred here at Sunnyland Farms. We had a great year and that would not be possible without our wonderful customers and friends, and for that I'd like to personally thank you. You keep us motivated to provide the best pecans, mixed nuts, dried fruits, cakes and candies we can and we are constantly trying to improve in order to exceed your expectations.
This past year was both challenging and rewarding for us at Sunnyland. Mother Nature provided significant challenges, with two tornadoes in Albany, GA in January that devastated large sections of our home town. Many of our employees had significant damage to their homes but thankfully we all came out of the storms safely.
More recently, Hurricane Irma swept through the state of Georgia, dealing a devastating blow to the pecan industry. Thankfully, Albany took a glancing blow compared to other parts of the state; and while we lost over 150 trees and a portion of our crop we are thankful. We recently wrote more about our pecan harvesting and our pecan trees - education is important! We still have nuts to harvest and are looking forward to great season. One positive that came from Irma is we were able to meet some of our wonderful customers who passed through Georgia while seeking refuge from the storm. It is always a pleasure to meet our customers and we would love to see you as well should you find yourself in southwest Georgia.
On a more upbeat note we've introduced our new gift boxes of which we are very proud. We think you'll find the presentation outstanding and look forward to hearing your feedback. Additionally, we updated the look of our catalog and came up with some outstanding new products such as our Pecan Butter, which is delicious and packed with all the health benefits that our whole pecans and pecan pieces provide.
We've also made strides to lessen our carbon footprint. Our catalog was printed on recycled paper, saving over 4,000 trees, 500,000 gallons of water and emitting far less pollutions during production. We've removed some plastic from our packaging as well. And while we're not as "green" as we'd like to be we're making great strides as a company.
We hope you are off to a great harvest season and do hope that you'll keep Sunnyland in mind for all of your holiday gifting and baking needs. If you are looking for something specifically designed for business clients and colleagues please look at our new Corporate Gifts page.
As always, we'd love to hear from you and appreciate your business. Thanks for making the previous year such a great one and cheers to a wonderful 2017 Harvest and Holiday season.