---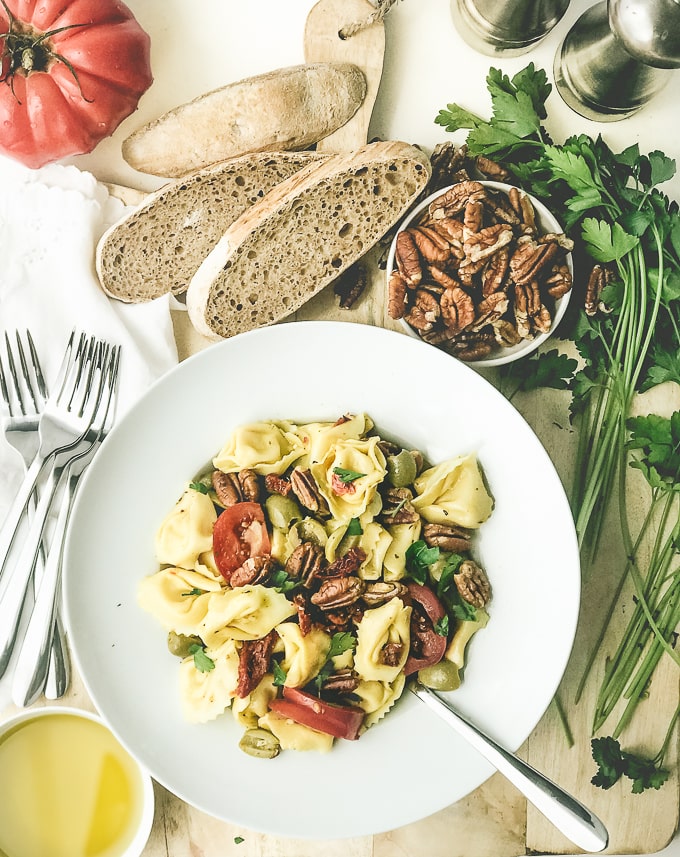 No reviews yet. To leave a review, please log in.
Make-Ahead Pasta Salad: The Perfect Summer Side Dish or Main Meal
One of the things I love most about summer is how suited it is for make-ahead meals. Think about it -- the classic summer Southern meal is a potluck. And what do all potlucks have in common? Delicious make ahead dishes…
...Potato Salad, Coleslaw and Deviled Eggs just to name a few.
(And the desserts. Don't forget the desserts!)
But being the food adventurer I am, I also love to mix things up a little when prepping a summer meal, especially one that I hope to share with friends. That's where this recipe comes in.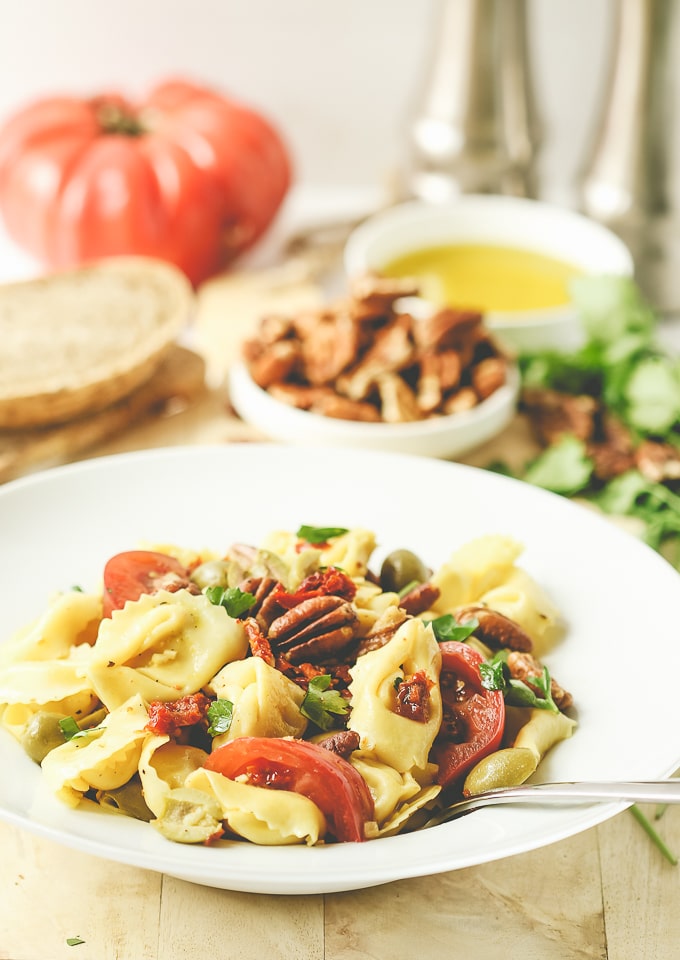 I developed this Two Tomato Tortellini Salad with Toasted Pecans with summer in mind. Fresh from the garden summer-ripe tomatoes tossed with orchard-harvested Georgia Pecans are two of the best tastes you'll find down south year after year.
This dish, though, branches out from it's southern borders, by leaning on quick-fix cheese tortellini, sundried tomatoes and olives for a uniquely Italian twist on a simple make-ahead pasta salad.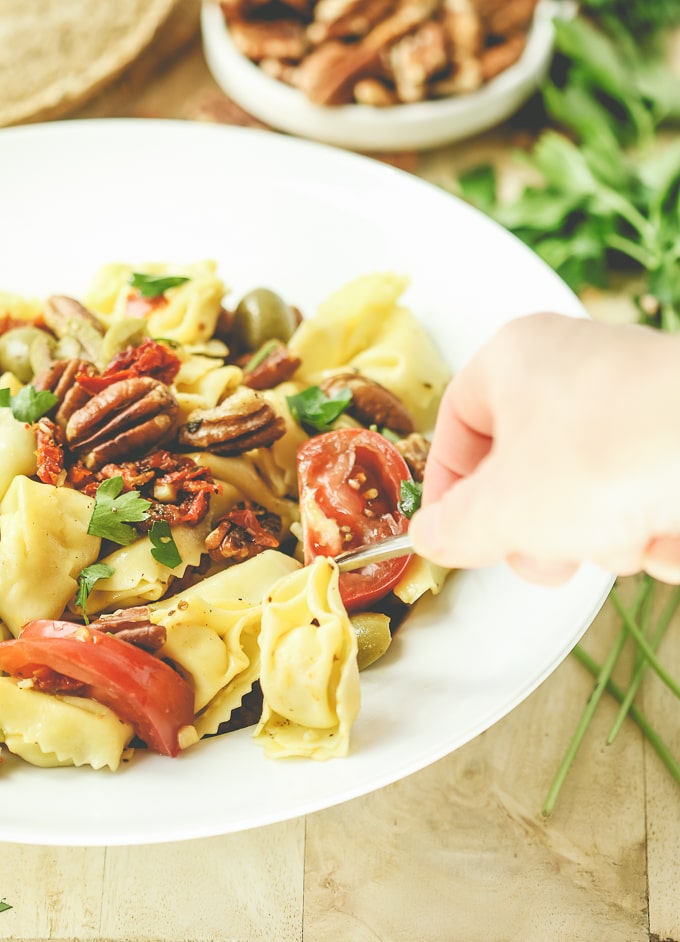 While the recipe makes enough to feed a crowd as a side dish, it can also serve as a weeknight meatless meal option for a family of four. Pair some grilled fish or chicken with it and it becomes an even heartier dinner option.
Got leftovers? It's arguably even better the next day as the flavors meld overnight. You can warm it gently in the microwave for a totally different take on pasta for lunch. The crunch and bite of the pecans pair perfectly with creamy, cheese tortellini centers. You likely won't have leftovers for long.
It's also worth noting that with a few tweaks, you can turn this dish into a completely different dish all together. Sub in spinach and ricotta stuffed ravioli for the tortellini and chopped artichoke for either or both of the tomato varieties. Use black olives in place of green and you've got an equally as easy make-ahead pasta salad summer dish. All that's missing now is the potluck.
Two Tomato Tortellini Salad with Toasted Pecans Recipe
Makes: 4 Main Dish Servings or 6-8 Side Dish Servings
Prep time: 10 minutes
Cook time: 5 minutes
12 ounces cheese tortellini
1 garlic clove, minced
2 tablespoons apple cider vinegar
1/2 tablespoon Dijon or yellow mustard
1/4 teaspoon salt
4 tablespoons olive oil
Freshly ground black pepper
1/2 cup bottled sundried tomatoes, drained
1 large summer-ripe tomato, cut into wedges
1/2 cup green olives, sliced in half lengthwise
1 cup Sunnyland Large Pecan Pieces, toasted
Chopped fresh flat leaf parsley (optional)
Cook tortellini according to package directions; drain and rinse with cold water.




Combine garlic with next 5 ingredients (through black pepper). Toss with tortellini and remaining ingredients. Serve immediately or refrigerate until ready to serve.
~Guest Post by Regan Jones, RDN, ACSM-CPT
Host and Blogger at This Unmillennial Life
Customer Reviews (0)
Products Used
FAQ's
How are the Raw Mammoth Pecan Halves stored after harvest?
Our farm-fresh pecans are kept in cold storage in their shells to help keep them fresh and delicious for snacking, baking, gifting, and everything in between.