---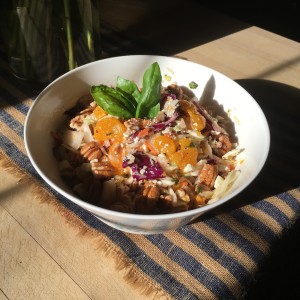 No reviews yet. To leave a review, please log in.
My passion for all things culinary happened by accident, as do many good things. Working professionally in both the restaurant and catering industries gave me the background but I was the people person; customer relations was my forte. It wasn't until I began cooking in my own kitchen, free to experiment, taste and create that I fell in love with the art of cooking. I think cooking is a lot like creating art, you can't be afraid to fail and often will. However, the few successes that come along the way are oh so worth it. Plus you get to share these victories with your family and friends! On that note, here is a summer recipe I think you will love!
Bright, flavorful herbs and veggies are always just so delicious and within an arm's reach this time of year. Pulling together easy, healthy foods that actually taste good always seems so much easier in July and August. Lemony fresh basil, crunchy cucumbers, Georgia peaches that taste like honey and best of all, those heavenly, candy-like tomatoes!
A few nights ago I wanted to make a nice side dish to go with grilled hamburgers and this Mandarin Pecan Slaw was the perfect accompaniment. Nice and bright with the addition of garden fresh basil and mandarin oranges makes this side a perfect summer dish to add to your repertoire. I think I've found a new staple summer recipe!
Crunchy Mandarin Pecan Slaw
1 pre-packaged cabbage slaw mix (dry)
1 small can mandarin orange slices (drained)
1 & 1/4 cup Sunnyland Farms Large Pecan Pieces
1/2 cup finely chopped fresh basil
1 6oz container Feta Cheese
1 small diced Vidalia onion
1/2 cup raspberry vinaigrette (good store bought/pecan raspberry is even better)
1/4 cup olive oil
1/4 cup apple cider vinegar
1 & 1/2 tablespoons white sugar
Salt and fresh ground pepper to taste
*Garnish with whole Sunnyland Farms Junior Pecan Halves, mandarin orange slices and whole large leaf basil springs.
Mix together in bowl one hour before serving (Serves 4-6).
Food quote of the day:
"If most of us valued food & cheer & song above hoarded gold it would be a merrier world."
– J.R.R. Tolkien
Customer Reviews (0)
Products Used