---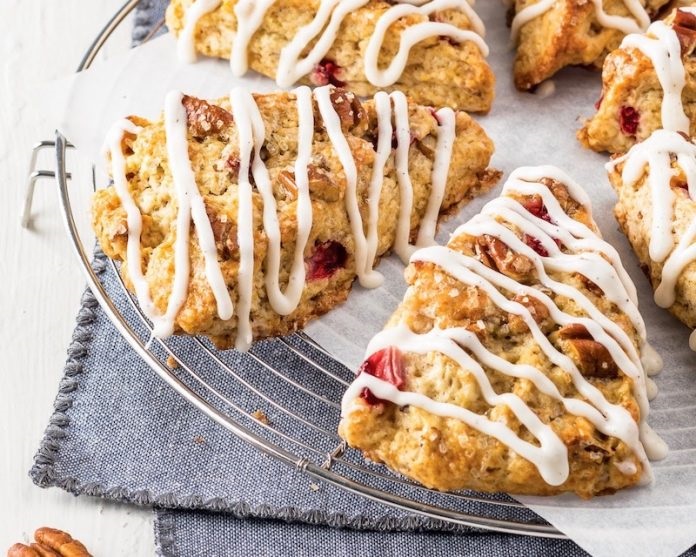 No reviews yet. To leave a review, please log in.
Capture the essence of the season with these tender strawberry- and pecan-studded scones. Sunnyland Farms Raw Georgia Pecan Halves highlight the sweetness of the strawberries with rich, buttery notes while lending irresistible crunch to every bite. Topped with a velvety vanilla glaze, these scones are next-level delicious.
Strawberry-Pecan Scones
Makes 8 scones
Ingredients
2 cups (250 grams) all-purpose flour
1/3 cup (73 grams) firmly packed light brown sugar
2 teaspoons (10 grams) baking powder
1 teaspoon (3 grams) kosher salt
1/4 teaspoon ground cinnamon
1/4 cup (57 grams) cold unsalted butter, cubed
3/4 cup (180 grams) cold heavy whipping cream
1 teaspoon (6 grams) vanilla bean paste
1/4 teaspoon (1 gram) tightly packed orange zest
1/2 cup (85 grams) ½-inch-chopped fresh strawberries, patted dry
1/2 cup (57 grams) chopped toasted Sunnyland Farms Raw Georgia Pecan Halves
2 tablespoons (14 grams) chopped Sunnyland Farms Raw Georgia Pecan Halves
1 large egg (50 grams), lightly beaten
Sparkling sugar, for sprinkling
Vanilla Bean Glaze (recipe follows)
Instructions
Preheat oven to 375°F (190°C). Line a baking sheet with parchment paper.
In a large bowl, whisk together flour, brown sugar, baking powder, salt, and cinnamon, breaking up any clumps by hand if needed. Using a pastry blender or 2 forks, cut in cold butter until mixture resembles coarse crumbs.
In a small bowl, stir together cold cream, vanilla bean paste, and orange zest. Gradually add cream mixture to flour mixture, stirring with a fork until dry ingredients are moistened. Gently stir in strawberries and toasted pecans. (It's OK if dough is crumbly or shaggy in parts.)
Turn out dough onto a very lightly floured surface; knead gently 4 to 6 times to bring dough together. Roll or pat dough into a 7-inch circle (1-inch thickness), lightly flouring surface as needed to prevent sticking. Using a bench scraper or a thin-bladed knife, cut dough circle into 8 wedges; gently press raw pecans into tops of scones as desired. Place scones at least 2 inches apart on prepared pan. Freeze for 15 minutes.
Brush tops of scones with egg wash, and sprinkle with sparkling sugar.
Bake until golden brown and a wooden pick inserted in center comes out clean, 20 to 22 minutes. Let cool to room temperature. Spoon Vanilla Bean Glaze into a small pastry bag; cut a ¼-inch opening in tip. Drizzle onto scones as desired.
Vanilla Bean Glaze
Makes about 1/2 cup
Ingredients
2/3 cup (80 grams) confectioners' sugar
2 1/2 tablespoons (37.5 grams) heavy whipping cream
1/2 teaspoon (3 grams) vanilla bean paste
1/4 teaspoon kosher salt
Instructions
In a small bowl, stir together all ingredients until smooth. Use immediately.
Customer Reviews (0)
Products Used
FAQ's
How are the Raw Mammoth Pecan Halves stored after harvest?
Our farm-fresh pecans are kept in cold storage in their shells to help keep them fresh and delicious for snacking, baking, gifting, and everything in between.