---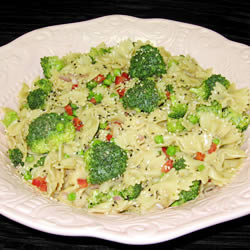 No reviews yet. To leave a review, please log in.
Ingredients
1 cup broccoli florets
1 lb. dried pasta
2 shallots, finely chopped
1 Tbsp. olive oil
2 tsp. minced garlic
1 medium red bell pepper, cored and cut into thin slices
1 cup snow peas, ends and strings removed
5 ounces grated Parmesan cheese
1/2 cup Sunnyland Small English Walnut Pieces
1 cup fresh parsley, finely chopped or 1 Tbsp. dried
1/3 cup dry sherry, optional
Instructions
Cook broccoli in boiling water; drain. Set aside.
Cook pasta in boiling water; drain, reserving 1/2 cup water. Set aside.
Meanwhile, in a large skillet sauté the shallots in olive oil over moder-ately low heat until transparent, about 5 minutes. Add garlic, bell pepper; cook until tender. Add snow peas; sauté 3 or 4 minutes until tender. Blend Parmesan cheese and walnuts in a food processor; add to skillet. Add broccoli, parsley, 1/2 cup of pasta water. Stir in the sherry and return to a boil. Pour over pasta and serve.
Recipe Picture by allrecipes.com
Customer Reviews (0)
Products Used