---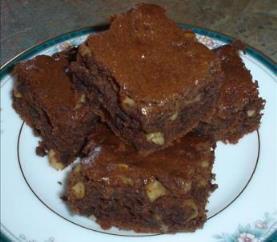 No reviews yet. To leave a review, please log in.
Ingredients
1/4 cup butter
2 oz unsweetened chocolate
2/3 cup Sunnyland Gallberry Honey
2 eggs, well beaten
1/2 cup whole wheat flour
1/4 tsp baking powder
2 tsp vanilla
1 cup Sunnyland Small English Walnut Pieces
Instructions
Melt chocolate and butter together. Mix in honey, then eggs.
Sift together flour and baking powder. Combine with chocolate mixture. Add vanilla and nuts.
Bake in a well greased 7 x 11 or 8 x 8 pan for 35 minutes at 300°F.
Recipe Picture by Bobbiann on Food.com
Customer Reviews (0)
Products Used
FAQ's
Are Raw Walnuts ready and safe to eat?
Yes, our Walnuts are ready to eat and always raw. We never toast or salt our tasty, delicious Walnuts.