---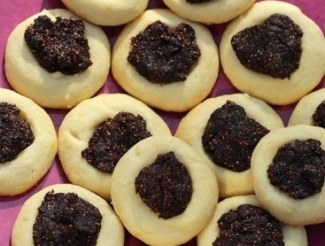 No reviews yet. To leave a review, please log in.
Ingredients
8 ounces Sunnyland Mission Figs
1/2 cup water
1 cup (2 sticks) butter, room temperature
3/4 cup granulated sugar
2 large egg yolks
1 teaspoon vanilla extract
1 teaspoon orange zest
2 cups all-purpose flour
Pinch of salt
Instructions
Preheat oven to 350°. Line a baking sheet with parchment paper or a silicone mat.
Combine the figs and water in a medium saucepan. Bring the water to a boil, cover, reduce to a simmer and allow the water to boil until the figs have absorbed it.
Transfer the figs to a food processor and pulse, scraping down the bowl occasionally, until the mixture is completely smooth. Set aside and allow the filling to cool.
Cream the butter and sugar with an electric mixer on high speed until light and fluffy, about 3 minutes. Beat in the egg yolks, vanilla extract and orange zest. Add flour and salt and mix until incorporated. Form dough into
1-inch balls and arrange on prepared baking sheet. Press down in the center of the dough with your thumb to make a small well in the center of each cookie.
Bake cookies for 8 to 10 minutes or until bottoms are lightly golden. Remove the baking sheet from the oven.
If the indentation looks shallow, press down gently again to make the indentation deeper. Fill each with approximately 1/2 teaspoon pureed figs.
Place baking sheet back in the oven to further cook an additional 3 to 4 minutes, until edges are lightly golden. Allow to cool for a few minutes on the cookie sheet to firm up before moving the cookies to a wire rack to finish cooling.
Recipe Picture by Joanie on zagleft.com
Customer Reviews (0)