---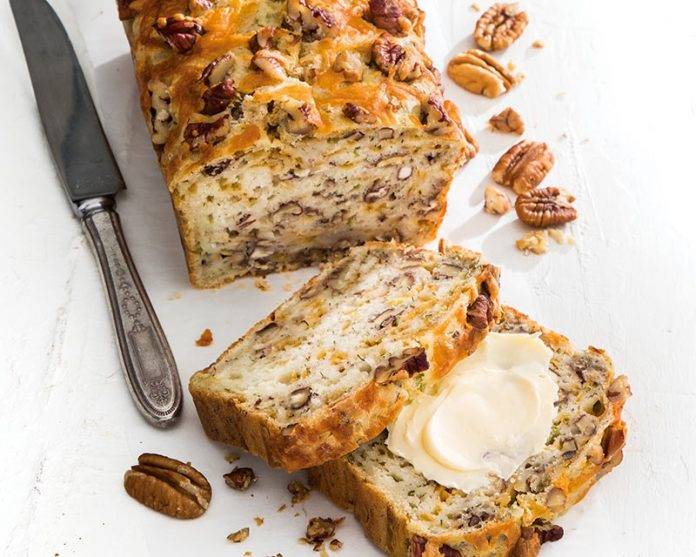 No reviews yet. To leave a review, please log in.
Ingredients
2½ cups (313 grams) all-purpose flour
3 tablespoons (36 grams) granulated sugar
1½ teaspoons (7.5 grams) baking powder
1 teaspoon (3 grams) kosher salt
1 teaspoon (2 grams) garlic powder
¼ teaspoon (1.25 grams) baking soda
1⅓ cups (320 grams) whole buttermilk, room temperature
¼ cup (56 grams) canola oil
1 large egg (50 grams), room temperature
1 cup (113 grams) Sunnyland Large Pecan Halves, toasted
⅔ cup (75 grams) plus 3 tablespoons (22 grams) firmly packed shredded extra-sharp Cheddar cheese, divided
½ cup (56 grams) finely chopped green onion
¼ cup (10 grams) lightly packed finely chopped fresh dill
¼ cup (28 grams) roughly chopped Sunnyland Farms Raw Georgia Pecan Halves
Softened butter, to serve
Instructions
Preheat oven to 350°F (180°F). Spray an 8½x4½-inch loaf pan with baking spray with flour; line pan with parchment paper, letting excess extend over sides of pan.
In a large bowl, whisk together flour, sugar, baking powder, salt, garlic powder, and baking soda. In a medium bowl, whisk together buttermilk, oil, and egg. Add buttermilk mixture to flour mixture; stir until well combined. (Batter will be very thick.) Fold in toasted pecans, ⅔ cup (75 grams) cheese, green onion, and dill until well combined. Spoon batter into prepared pan; using a small off-set spatula, smooth into an even layer. Sprinkle top with raw pecans and remaining 3 tablespoons (22 grams) cheese.
Bake until a wooden pick inserted in center comes out clean and an instant-read thermometer inserted in center registers 200°F (93°C), 1 hour to 1 hour and 5 minutes. Let cool in pan for 5 minutes. Using excess parchment as handles, remove from pan, and let cool completely on a wire rack. Serve with softened butter.
Recipe Shared from Bake From Scratch
Customer Reviews (0)
Products Used
FAQ's
How are the Raw Mammoth Pecan Halves stored after harvest?
Our farm-fresh pecans are kept in cold storage in their shells to help keep them fresh and delicious for snacking, baking, gifting, and everything in between.