---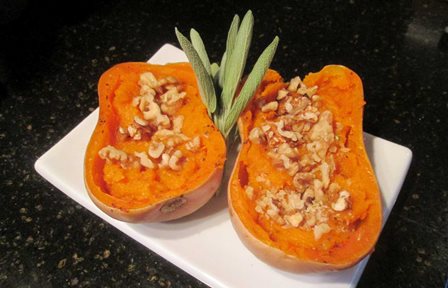 No reviews yet. To leave a review, please log in.
Ingredients
2 butternut squash, halved lengthwise, and seeded
1 cup water
2 Tbsp. butter
Salt and pepper to taste
1/2 cup Sunnyland Small English Walnut Pieces, Toasted
Instructions
Preheat oven to 350°. Place squash, cut side down, in 13" x 9" x 2" glass baking dish. Pour water over squash. Bake until skin on squash is blistered and brown and flesh is tender, about 1 hour and 15 minutes.
Turn squash cut side up. Cool slightly. Scoop out flesh and transfer to medium bowl, leaving 1/3'' shell. Mash flesh. Add butter and stir until melted. Season to taste with salt and pepper. Spoon squash back into shells. Sprinkle with chopped walnuts and serve. Yield: 4 servings.
Recipe Picture by cookingwithbarryandmeta.blogspot.com
Customer Reviews (0)
Products Used
FAQ's
Are Raw Walnuts ready and safe to eat?
Yes, our Walnuts are ready to eat and always raw. We never toast or salt our tasty, delicious Walnuts.