Pecan Meal
Select Packaging ...
Home Box
1-Pound "D-I-Y" Bags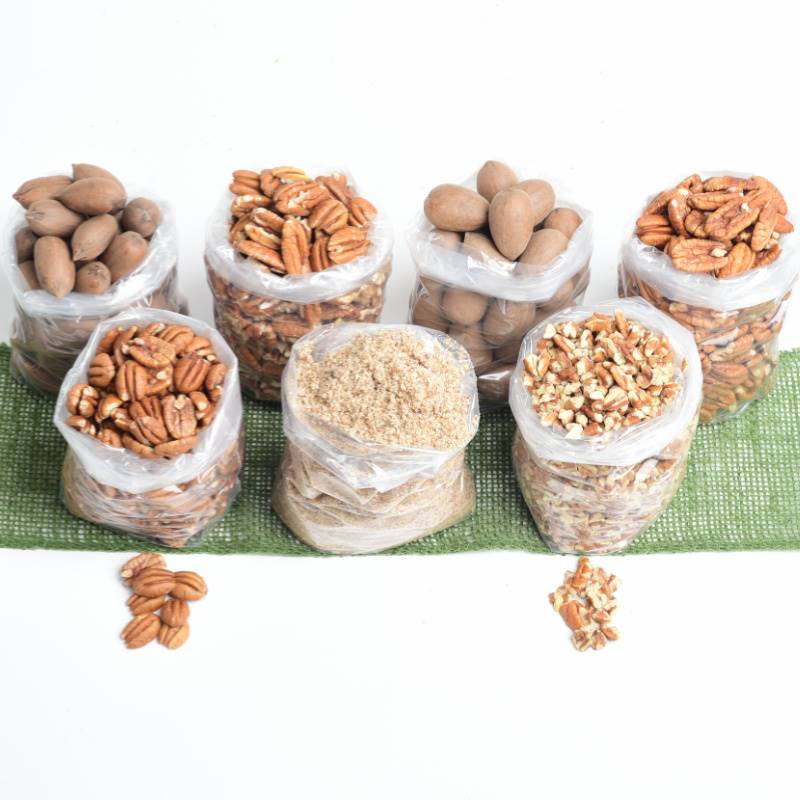 Home Box
#3004 - - Case of 3 #4 - 15lb total
#5004 - - Case of 5 #4 - 25lb total
Our "Do-It-Yourself" bags are one of the most popular ways to try new products and to restock old favorites. Mix and Match any way you choose.
Pecan Meal, often called pecan flour, is a convenient and economical way to add flavor and nutrition to your favorite dishes. Use it as an ingredient in pies, cakes, and cookies or as a substitute for wheat flour. A new favorite use of chefs in the South is using it as a coating for frying poultry and other items. It's so versatile you may find yourself using it all the time. Of course, we start with fresh pecans, grown right here on our farm. Kosher certified.
More arrow_drop_down arrow_drop_up

Pecan Meal: Additional Information

Pecan Meal was once a by-product of the pecan shelling industry and very lightly used both domestically and commercially. Recently, chefs both professional and casual are seeing its versatility in a variety of ways. Deserts, crusts for cheeses, and chicken fried in a pecan flour are some of the most interesting ways we've seen it used. But the only limit is your culinary imagination.

Packaging Options

Our Pecan Meal comes in economical home boxes so you get the best value for your money. And with free shipping (no minimum required) there are no surprises when you check out. The price you see is this price you pay.

Related Items

One common item sold with Pecan Meal is our Pecan Oil. Two very unique items that are not available in most stores. And of course both come with the quality only provided by Sunnyland Farms.
Nutritional Information arrow_drop_down arrow_drop_up
Additional Information arrow_drop_down arrow_drop_up

| | |
| --- | --- |
| Packaging | home box / bulk, 1-pound bags |
| Ingredients | pecans |
| Specialties | heart healthy, kosher, raw |
Related Products