Home
/
Pecan News & Blog - Pecan Industry Updates
/ "Ours vs Theirs" - How to Buy the Best Nuts (Online & In Stores)
"Ours vs Theirs" - How to Buy the Best Nuts (Online & In Stores)
Here at Sunnyland Farms, our pecans are definitely our middle name and we are supremely passionate about providing "ONLY the BEST" you can buy. However, did you know we also work diligently to provide many, many other fresh, quality "Only the Best" nuts available? We offer the biggest, brightest Macadamia's you will ever see, buttery, rich Cashews, crisp California Almonds, and much, much more.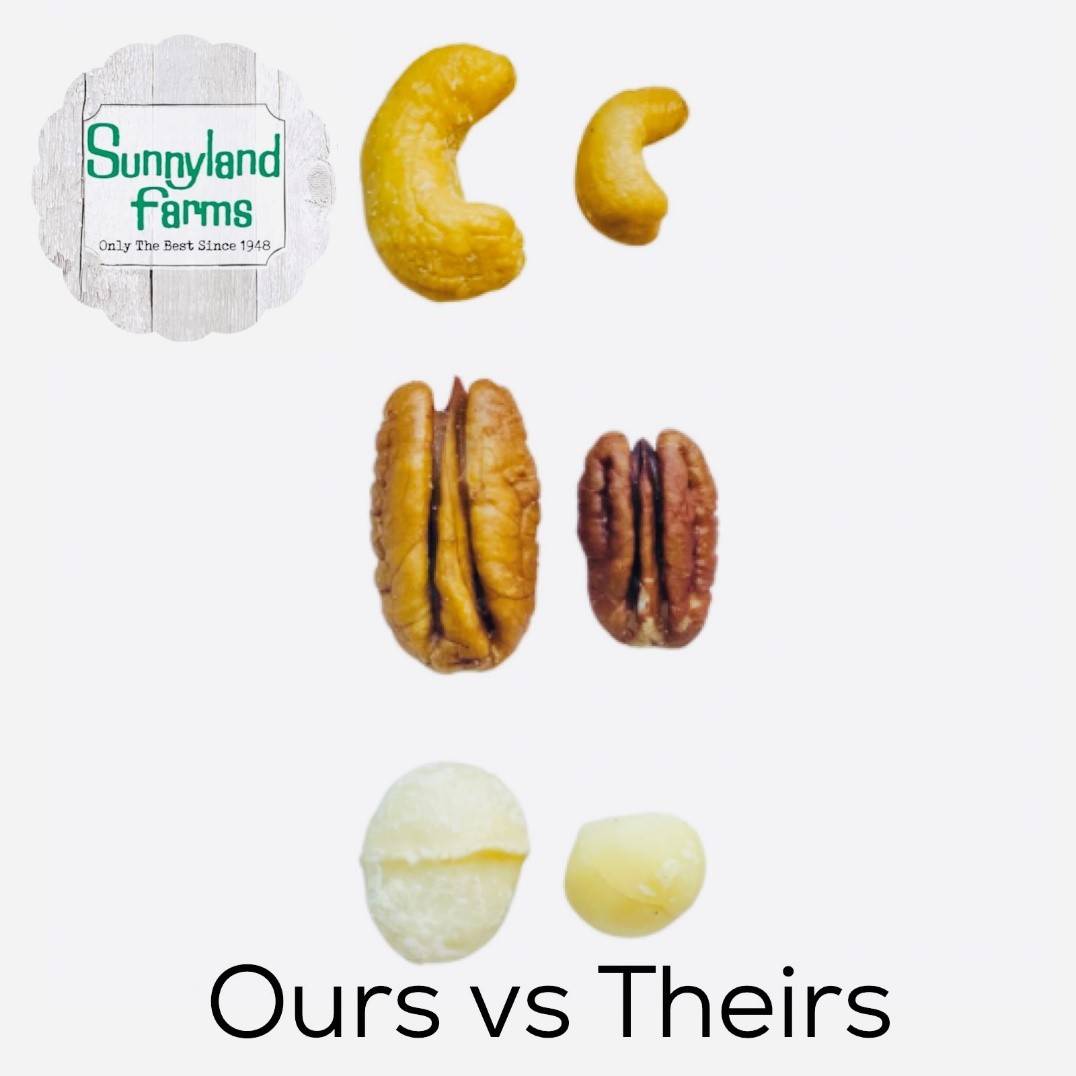 We thought it would be fun to a little cost comparison with our neighborhood Supermarket to see how we measured against their quality and prices, and boy…were we surprised! In some cases, we were only a dollar more than these far inferior nuts, and THAT INCLUDES SHIPPING TO YOUR DOOR! So, we figure… why not buy from Sunnyland? We develop mutual partnership relationships with nut farmers/providers all over the world, when you purchase from us you are supporting a 4th generation small 'MADE IN THE USA' business, and well… the nuts are just SO MUCH BETTER. Here is a breakdown on cost and imagery with a bit about where we purchase from.
Fresh Pecans vs "Standard" Pecans
First up of course is our wonderful GEORGIA GROWN mammoth pecans. We will try and spare you industry speak, but our Mammoth Pecan Halves are all shelled here on site with our hands guiding the entire process. The Pecan industry standard to be considered "mammoth" can include junior mammoth. That means smaller… ours are actual Mammoth halves, as you can see in the image below. You won't find tastier, bigger, better-quality pecans anywhere.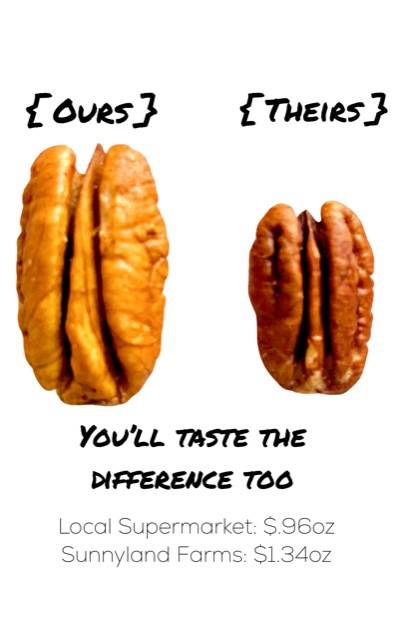 Fresh Macadamias vs "Standard" Macadamias
Moving on to Macadamias, we source our Macs primarily from wonderful farmers from Kenya and South Africa. We look for light color and sizes Style 1 or Style 0 (this is the biggest on the world market. The supermarket will see you a Style 4, so you can imagine the quality difference between Style O (the best!) all the way to Style 4. The color and size difference in the image is very stark.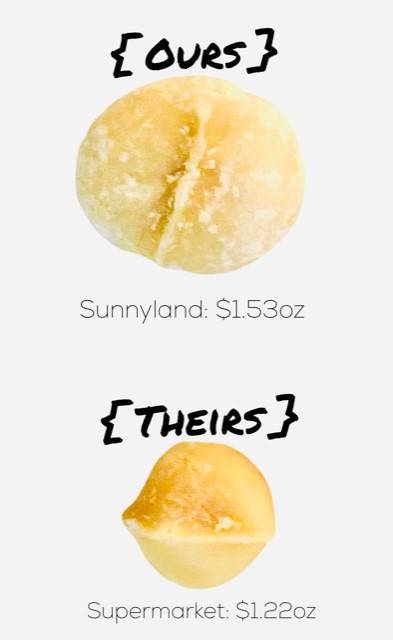 Fresh Cashews vs "Standard" Cashews
Cashews really are a favorite around here, with their buttery rich goodness, who can resist. Our Cashew Butter it is to die for but we will save that discussion for another day. Our cashews are sourced from India and Vietnam, where proper growing conditions produce a light color with minimum breakage. We only buy 210's which are the biggest and brightest and means 210 cashews per pound only or less. Supermarkets usually sell industry cashew standard, which is 350 per pound, thus the difference in size difference.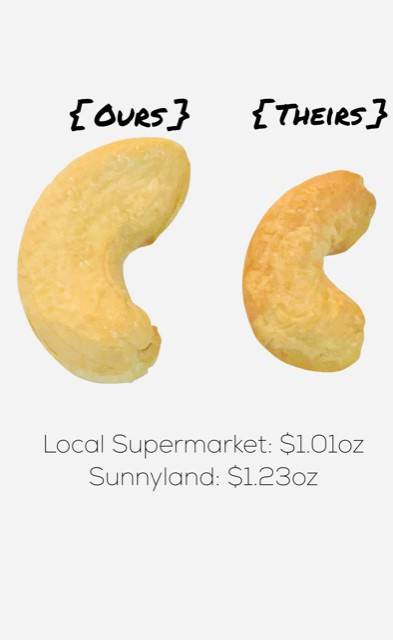 All in all, we love what we do and will continue to develop new relationships worldwide to continue offering "Only the Best" when it comes to nuts. When quality matters, go with Sunnyland Farms.