---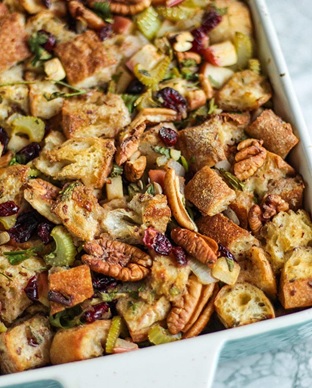 No reviews yet. To leave a review, please log in.
Vegan Stuffing by Catherine Perez (MS, RD, LDN) @plantbasedrd
The holidays aren't truly the holidays until stuffing is involved. If you've made stuffing before, I can promise you the little bit of extra effort involved in making your own transcends any boxed mix you can find. It's also a little easier to tweak to your preference as well, which I really appreciate. Some extra cranberries and pecans in mine, please! And not sure about you, but I like being able to see the chunks of gooey bread in my stuffing. But maybe you like having yours a little more gooey. Everyone should be able to enjoy their stuffing the way they want!
So how do you make stuffing that is even better than the box mix? Super easy, throw some delicious buttery pecans and sweet cranberries into the mix and you have yourself a winner. I think the combination of the pecans and cranberries help to add some more texture to the stuffing I love with a little sweetness that helps compliment the savory holiday undertones. And it's beyond delicious too. My husband who is an avid stuffing lover said this was his favorite batch he's ever tried. A truly bold statement considering I think his mother is the queen of stuffing.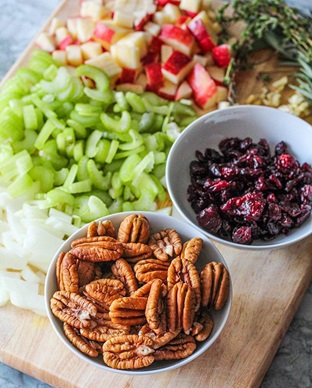 As a dietitian, I feel that seeing where you can add more nutrition is always my go to. You'll find that this stuffing has a little more fiber to it thanks to the addition of apples, flax seeds, pecans and cranberries. It is also vegan, so no dairy or eggs needed. And it still has a buttery flavor to it thanks to the addition of the high-quality, straight from the orchard Sunnyland Pecans used in this recipe. Truly makes a big difference in flavor.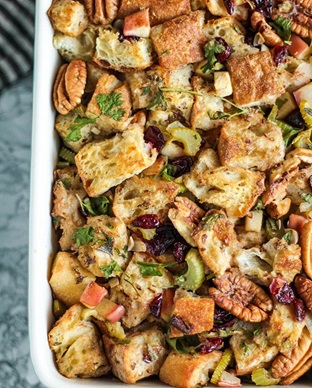 Tips for making a successful vegan cranberry pecan stuffing
If you don't have day-old bread, you can use fresh bread and slightly toast it. Just cube your bread and spread it out evenly on a baking sheet and place in the oven for about 10 minutes to crisp up.
Add

additional vegetable broth slowly

if you want to change the texture of your vegetable broth. Just add a little more at a time, making sure that your bread is soaking up the broth. The more you add the more soggy your stuffing will be, so be careful not to add too much at once because you won't be able to take it back. If I need to adjust, I'll just add about 1/4 cup at a time.

Make

it extra good by placing it in the oven to cook. Cover your dish with foil to cook your stuffing well and then remove the foil at the end to crisp up the top as it bakes. Don't worry, your stuffing will not dry out.
Store extra stuffing away in a sealable container and place in the fridge for up to 4 days.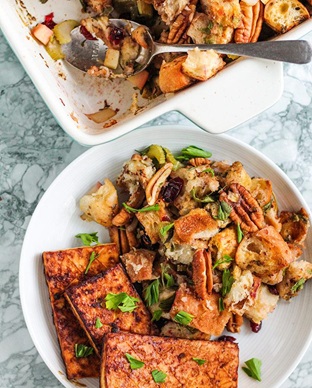 Vegan Cranberry Pecan Stuffing Recipe
Makes: 8 servings
Prep Time: 10 minutes
Cook Time: 50 minutes
Ingredients

1 large loaf of whole grain or sourdough bread, about 10 cups cubed
1 tbsp ground flax seeds
3 tbsp water
2 tbsp olive oil
3 stalks celery, diced
1/2 medium yellow onion, diced
1 apple, diced
4 cloves garlic, minced
2 cups or more of vegetable broth
1/2 cup pecans, roughly chopped
1/2 cup dried cranberries
1 tsp dried fresh thyme
4 sage leaves, minced
1/2 tsp fresh rosemary, minced
Salt to taste

Directions
Preheat the oven to 350F and grease a 9x13in baking pan.
Spread out the cubed bread on a baking sheet then place in the oven to lightly toast for 10 minutes and set aside (you can skip this step if you have day-old bread available, just cube and set aside).
In a small bowl, combine water and flaxseed and mix together, then set aside.
In a heated skillet, add olive oil, onion, and celery with a pinch of salt and sauté until softened, about 3-4 minutes.
Add in diced apple and minced garlic and continue to stir together to help soften the apple, about 3 minutes.
Remove pan from heat and in a large bowl add your cubed bread then pour vegetable broth over top evenly and stir bread to make sure it absorbs the broth well without getting too soggy. Adjust the amount of broth to your preference, remove from heat and in a large bowl add your cubed bread then pour vegetable broth over top evenly and stir bread to make sure it absorbs the broth well without getting too soggy. Adjust the amount of broth to your preference.
Add the sautéed apple mixture over top along with the cranberries, pecans, thyme, sage, rosemary, and a generous pinch of salt.
Fold ingredients together to evenly mix. Pour stuffing mixture into a large baking dish and spread out evenly.
Cover your baking dish with foil and place into the oven to bake for 25-30 minutes.
Remove cover and bake on the top rack of your oven for an additional 10 minutes to crisp up the top of your stuffing.
Once done cooking, remove stuffing from the oven and serve along with additional sides and main entrees as desired.
Customer Reviews (0)
Products Used
FAQ's
How are the Raw Mammoth Pecan Halves stored after harvest?
Our farm-fresh pecans are kept in cold storage in their shells to help keep them fresh and delicious for snacking, baking, gifting, and everything in between.