---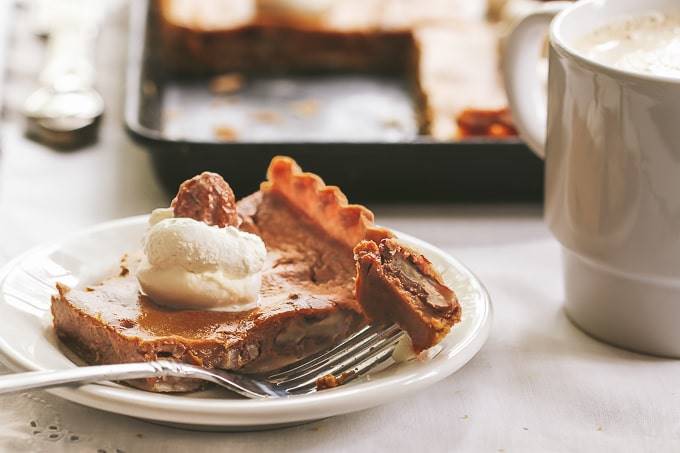 No reviews yet. To leave a review, please log in.
I'm not quite sure when I was first introduced to slab pies. But I am sure it was an awfully good thing.
What is a Slab Pie?
At first glance, a slab pie may seem like a solution to the problem of "not enough slices" in a regular size pie. But look a little further and what you'll find is that the slab pie makes for the perfect eating experience. It's thin enough to ensure the filling to crust ratio is just right. And in the case of this particular pumpkin slab pie, it showcases the centerpiece of the recipe -- the homemade candied pecans!
When I first started thinking about marrying two classic Thanksgiving pies into one fabulous slab pie creation, I thought about making a distinct layer of pumpkin pie and a distinct layer of pecan pie.
But let's be honest. Sunnyland has already perfected the Pecan Pie in its classic form. So why tamper with perfection?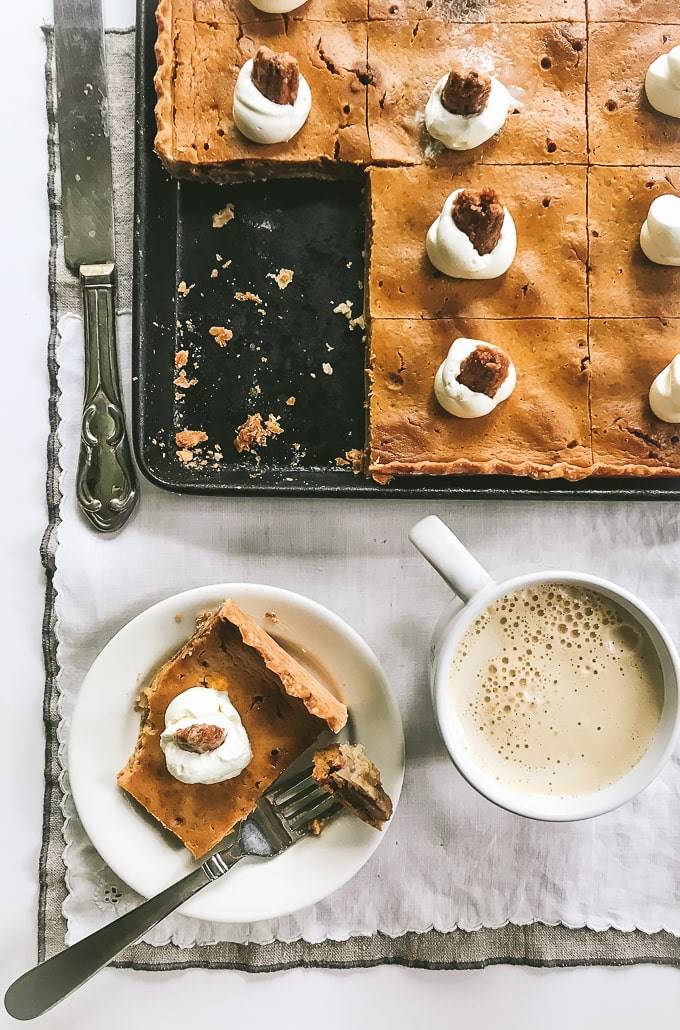 The Twist: Pumpkin Pie with Candied Pecans
Instead, I developed an entirely new twist on pumpkin pie by making a batch of candied pecans using Sunnyland's pecan halves that dot the homemade pumpkin pie filling (Don't you dare think that the canned shortcut is the way to go here), which is then layered between a buttery, flaky pie crust and dollops of whipped cream. (You do have my permission to go the shortcut route when it comes to pie crusts.)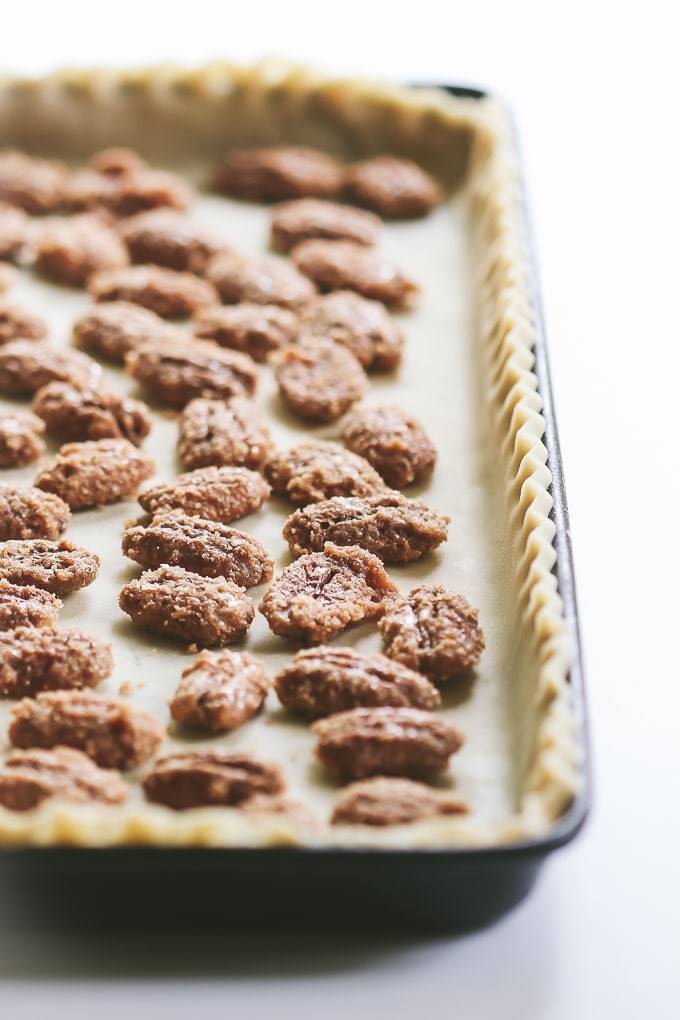 What you get when you combine the two is an eating experience of bites of pure pumpkin pie followed by bites of a pumpkin-pecan combo that you won't soon forget.
Nor will your Thanksgiving guests forget the presentation of this slab pie. Its expansive size and candied pecan garnish signal to everyone at your table that this isn't your average pumpkin pie. And that's something we can all be thankful for.
~by Regan Jones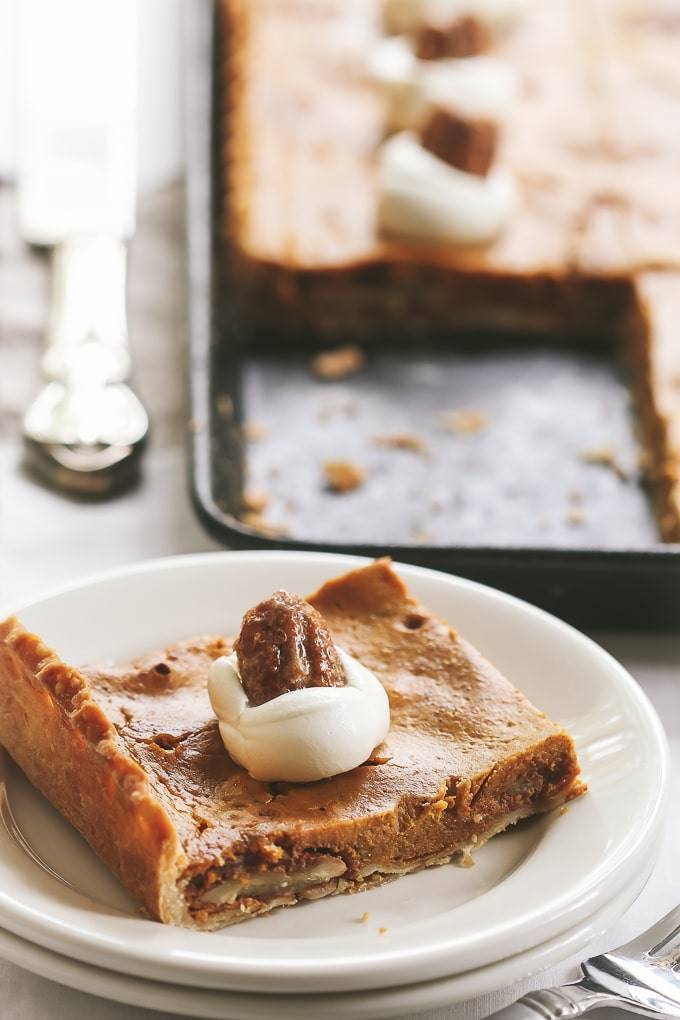 Pumpkin Slab Pie with Candied Pecans Recipe
Yield 18 servings
Ingredients
Candied Pecans:
1 cup granulated sugar
1 teaspoon ground cinnamon
1 teaspoon salt
1 egg white
1 tablespoon water
3 cups Sunnyland pecan halves
Pie Crust:
2 homemade pie crusts OR 1(14.1-ounce) package refrigerated pie crusts (package will contain 2 crusts)
Pumpkin Filling:
4 large eggs, lightly beaten
2 (15-ounce) cans pumpkin
2 1/2 cups heavy cream
1 cup packed light brown sugar
2 teaspoons vanilla extract
1 tablespoon pumpkin pie spice
1 teaspoon Kosher salt
Garnish: whipped cream
Directions
Preheat oven to 250 degrees F.
Mix sugar, cinnamon, and salt together in a bowl.
Whisk egg white and water together in a separate bowl until frothy. Toss pecans in egg white mixture. Mix sugar mixture into pecan mixture until pecans are evenly coated. Spread coated pecans onto a Silpat lined or cooking spray coated baking sheet.
Bake in preheated oven, stirring every 15 minutes, for 1 hour or until pecans are evenly browned. Remove from oven and let cool; reserve 18 candied pecans.
Meanwhile, soften pie crusts according to package directions.
Increase oven temperature to 350 degrees F.
On a lightly floured surface, unroll pie crusts and stack one on top of the other. Roll to a 17x12-inch rectangle.
Fit crust into ungreased 15 x10 x1-inch pan, pressing into corners and up the top of the pan. Fold extra crust evenly over edges of pan.
Sprinkle candied pecans (minus reserved pecans) over bottom of crust.
Whisk together eggs, pumpkin, cream, brown sugar, pumpkin pie spice, vanilla and salt in a bowl; pour over pecans in crust. Bake until set or about 35 minutes. Remove from oven; let cool completely, about 2 hours.
To serve, cut pie into squares. Top with whipped cream and reserved pecans.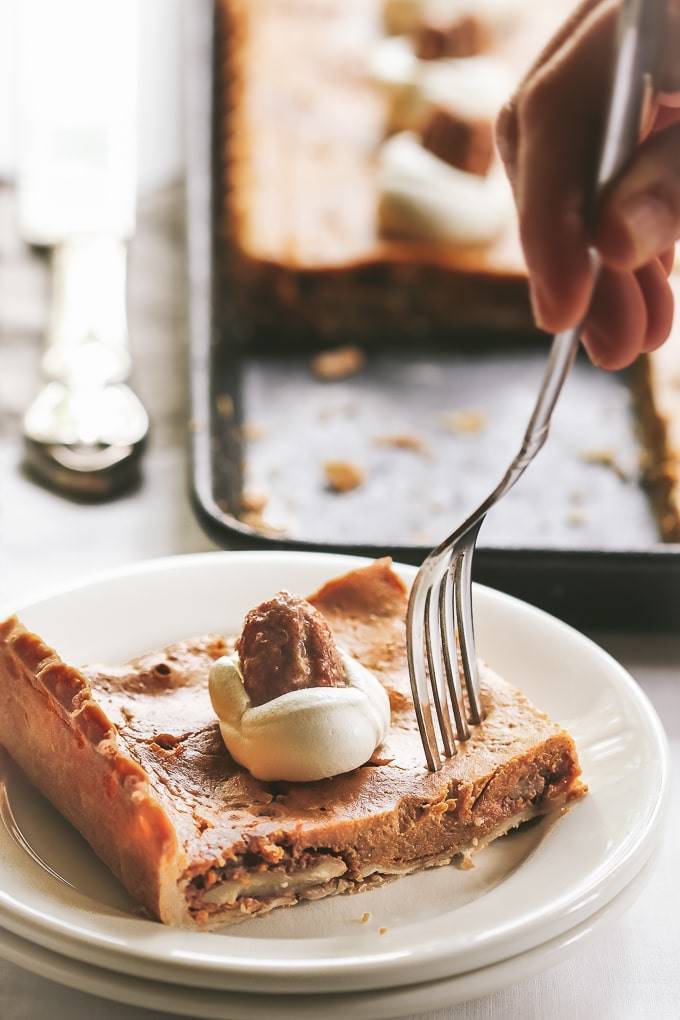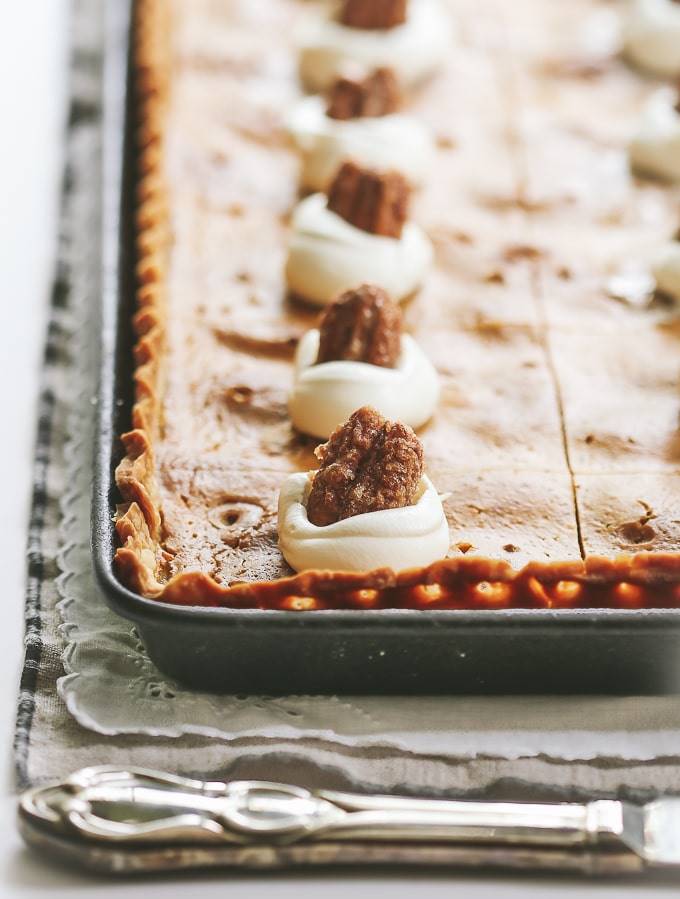 Customer Reviews (0)
Products Used
FAQ's
How are the Raw Mammoth Pecan Halves stored after harvest?
Our farm-fresh pecans are kept in cold storage in their shells to help keep them fresh and delicious for snacking, baking, gifting, and everything in between.