---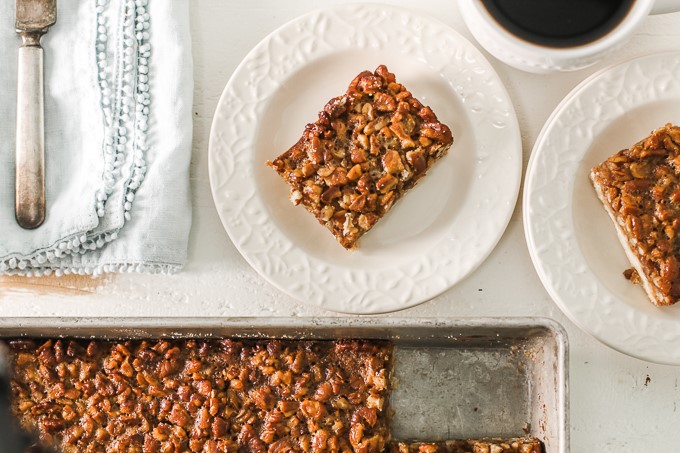 No reviews yet. To leave a review, please log in.
Allow me if you will to make a bold statement.
I've never met a pecan pie I didn't like.
Sure, I've eaten different kinds of pecan pie -- from those that used pecan halves instead of pecan pieces to those that had a gooey center rather than a firm one. But one thing is for certain:
To enjoy a good piece of pecan pie you need three things: a piece of pecan pie (obviously), a plate and a fork.
Before I go on, I should probably introduce myself. I'm Regan Jones -- a self-proclaimed food lover by birth but also a registered dietitian nutritionist & personal trainer by education. You may read those credentials and think, "Wait. What? She's a dietitian and personal trainer and she eats pecan pie?"
You bet I do.
And based on what I shared above, you can assume I've eaten plenty of it over my lifetime. If I may, allow me to make another bold statement:
Dietitians do dessert. Period.
We know the special place that delicious dishes and fond food memories play in having a healthy outlook on how all foods fit into a healthy diet. But what my credentials and history of pie eating don't tell you is that I actually prefer a very simple twist on traditional pecan pie. I prefer Pecan Pie Bars.
Pecan Pie Bars: A Simple Twist on a Southern Classic
But it wasn't always this way.
Growing up, my family's holiday table was routinely filled with copious amounts of what I would now consider "fork desserts." You know the ones -- cakes, pies, maybe a trifle here and there… basically anything that needed to be cut/sliced/scooped and served on a plate with a strong cup of coffee (to be sipped while the adults discussed how good the meal was and how delicious the desserts were)… and of course, a fork. (There might also be a discussion of college football depending on the mood of the room, but down South some things are better left unsaid, depending on the year. But I digress.)
As I got older, though, I came to what we'll call a pie eating "fork in the road," so to speak. I met the man who is now my husband and found that his family virtually never served a dessert that needed a fork. It was cookies and bars and the like -- handheld treats if you will -- all the way.
At first, I thought it odd, to be honest. There was no lingering; no sitting around the table; no moment of pushing past fullness to enjoy that last forkful of leisurely dessert. They were up and away and grabbing goodies on the way to the backyard for a game of touch football. And as much as the health professional in me loved the idea of the activity and movement, I inwardly mourned the tradition of sitting down to a plateful of holiday yumminess and especially missed the pecan pie.
So as a young bride, when it came my time to contribute to the holiday festivities I was initially at a loss for how to serve up something that felt worthy of the holidays but kept the pick-up-and-eat preference of my new family's affinity for handheld desserts.
Enter Pecan Pie Bars.
If you've never had a Pecan Pie Bar, trust me. You're in for a treat! Imagine if you will, taking everything that's delicious about pecan pie -- like the uniquely rich and earthy goodness of the pecan and the sweet, thick syrupy filling that encompasses it -- and placing all of that on top of a rich, shortbread crust that's sturdy enough to grab and go. It truly is that sweet spot on the dessert tray that keeps you coming back for just one more.
And while you can find Pecan Pie Bar recipes all over the Web, none are quite as perfect as this one. Many other recipes call for corn syrup, but I find I seldom have it on hand. Honey on the other hand is always in favor at my house and goes the extra mile in this recipe by yielding a slightly floral sweetness that pairs beautifully with straight from the orchard, high-quality Sunnyland Pecans.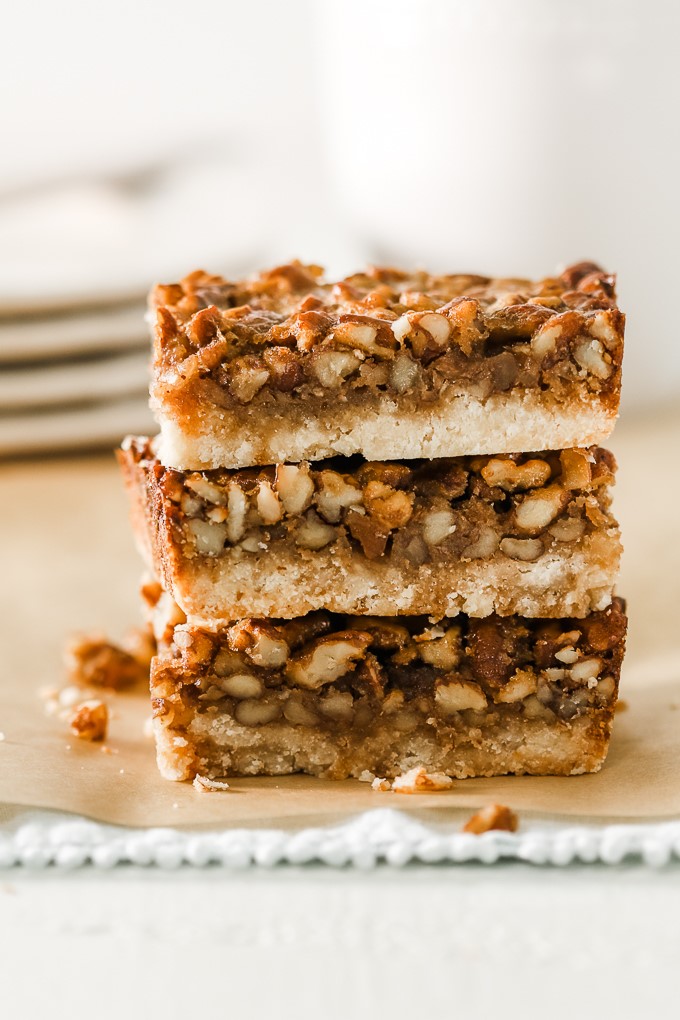 It may go without saying, but let me say it anyway -- the pecans you use matter a great deal in ensuring the absolute best tasting Pecan Pie Bar. Using Sunnyland's farmer picked and packed pecans yields the absolute best tasting bar time after time and for good reason. Sunnyland -- unlike many other pecan brands you might find on store shelves -- is unique in that they are both a farm AND a manufacturer. This means that every product is managed on-site with close attention to detail. Plus, their pecans are straight from Albany, Georgia -- otherwise known as the pecan capital of the world.
High-quality pecans, equal the best tasting Pecan Pie Bars. No forks required.
Pecan Pie Bars Recipe (no corn syrup):
Makes: 16 bars
Prep time: 5 minutes
Cook time: 45 minutes
Crust
2 1/2 cups all-purpose flour
1 cup granulated sugar
3/4 cup (1 1/2 stick) butter, melted
Pinch of salt
Filling
3 large eggs, at room temperature
2/3 cup brown sugar
1/2 cup honey
1/4 cup (1/2 stick) butter
1/4 cup heavy whipping cream
3 cups Sunnyland Farms small pecan pieces
1 teaspoon vanilla
Pinch of salt
Directions:
Preheat oven to 350 degrees F. Coat a 13- x 9-inch baking pan with cooking spray.
Whisk together flour and granulated sugar. Stir in melted butter; blend until mixture resembles coarse meal. Pat evenly into bottom of prepared pan.
Bake crust for 15 minutes or just until edges begin to lightly brown. Let cool.
Meanwhile, crack eggs in a medium-size bowl and beat well with a fork or whisk. Set aside.
Combine brown sugar, honey, butter and cream in a medium-size saucepan. Bring just to a boil over medium-high heat. Turn off heat. Gradually stream 1/2 cup hot sugar mixture into eggs, whisking constantly. Pour egg mixture back into pan with remaining sugar mixture, stirring constantly until smooth. Stir in Sunnyland Farms small pecan pieces, vanilla and salt. Pour over crust.
Bake for 25 minutes or until golden and bubbly. Cool completely before cutting into squares.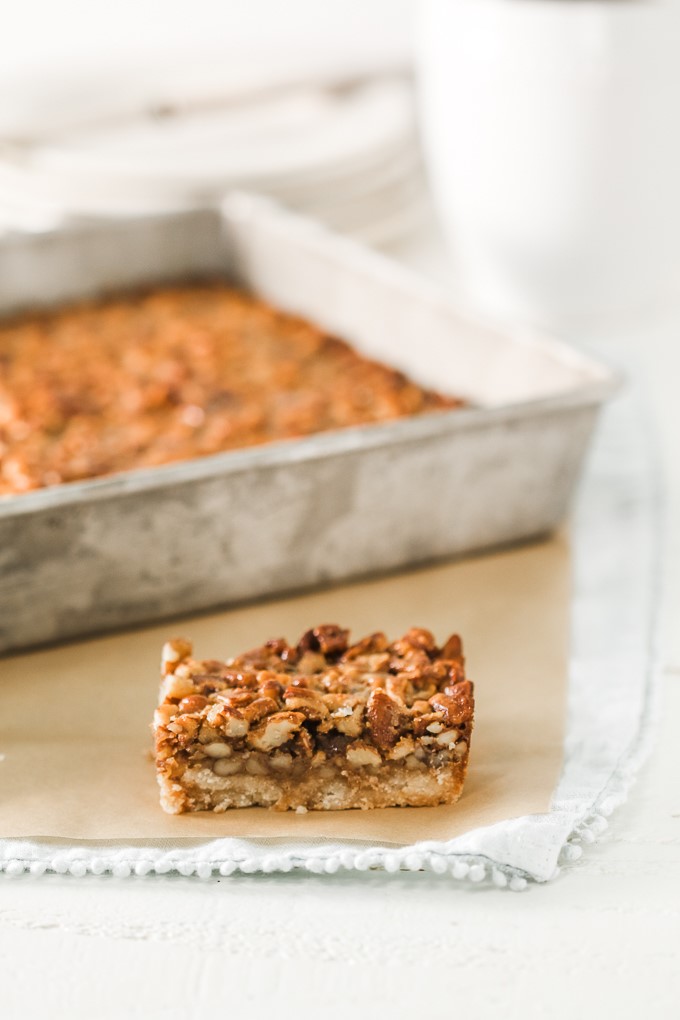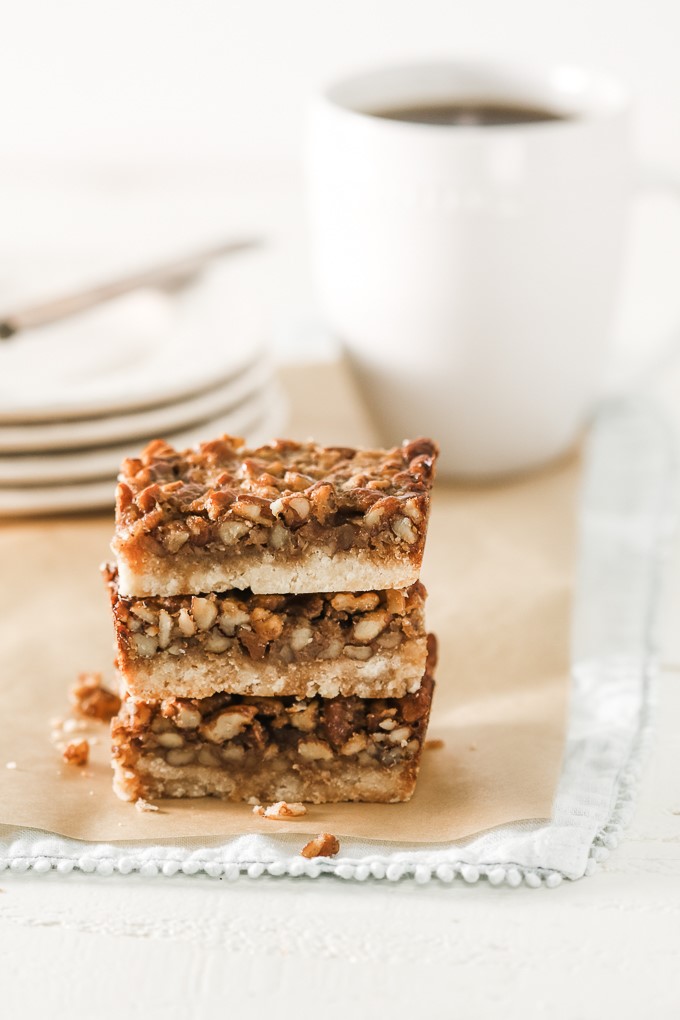 Customer Reviews (0)
Products Used