---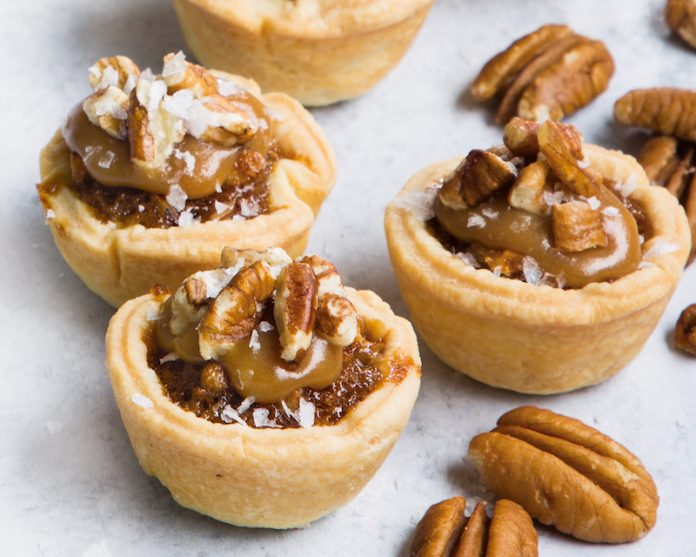 No reviews yet. To leave a review, please log in.
Offering sweet and simple satisfaction, there's no denying that these Pecan Caramel Tassies are a must-bake for any occasion. Sunnyland Farms Small Pecan Pieces are the secret ingredient behind these rich bites, adding irresistible crunch to the pecan pie filling and nutty notes that harmonize with the luscious caramel topping. Sprinkled with a pinch of sea salt, these classic treats will go so fast at your next gathering that you may want to bake a double batch.
Pecan Caramel Tassies
Makes 24
Ingredients
1/2 cup (113 grams) unsalted butter, softened
3 ounces (86 grams) cream cheese, softened
2 teaspoons (8 grams) vanilla extract, divided
1 1/2 cups (188 grams) all-purpose flour
3/4 teaspoon (2.25 grams) kosher salt, divided
1/4 cup (55 grams) firmly packed dark brown sugar
1/4 cup (42 grams) light corn syrup
1 tablespoon (14 grams) unsalted butter, melted
1 large egg (50 grams)
3/4 cup (90 grams) Sunnyland Farms Pecan Pieces
Caramel (recipe follows)
Garnish: Sunnyland Farms Pecan Pieces, flaked sea salt
Instructions
In the bowl of a stand mixer fitted with the paddle attachment, beat softened butter and cream cheese at medium speed until smooth. Beat in ½ teaspoon (2 grams) vanilla. With mixer on low speed, gradually add flour and ½ teaspoon (1.5 grams) kosher salt, beating until combined. Shape dough into a disk, and wrap in plastic wrap. Refrigerate for at least 30 minutes.
Preheat oven to 350°F (180°C). Spray a 24-cup mini muffin pan with cooking spray.
On a lightly floured surface, roll dough to about ⅛-inch thickness. Using a 2¾-inch round cutter, cut dough, rerolling scraps as needed. Place a round in each prepared muffin cup, pressing into bottom and up sides. Freeze while preparing filling. (Alternatively, divide dough into 24 portions [about 16 grams each]; roll into a ball, and then press into bottom and up the sides of each muffin cup, trimming excess dough as needed).
In a medium bowl, whisk together brown sugar, corn syrup, and melted butter until smooth. Add egg and remaining ¼ teaspoon salt, whisking until combined.
Sprinkle pecan pieces in each prepared crust. Pour egg mixture over pecans, filling each cup three-fourths full.
Bake until filling is set and an instant-read thermometer inserted in center registers 200°F (93°C), about 25 minutes. Let cool in pan for 10 minutes. Remove from pan, and let cool completely on a wire rack. Place Caramel Sauce in a piping bag. Cut a ¼-inch opening, and pipe Caramel Sauce on top of pecan filling. Garnish with pecan pieces and sea salt.
Notes
Dough can be made ahead of time. If chilled for a long period of time, let dough stand at room temperature for 15 to 20 minutes before rolling.
Caramel Sauce
Makes about 1 1/2 cups
Ingredients
1 cup (200 grams) granulated sugar
4 tablespoons (60 grams) water, divided
1/2 cup (120 grams) warm heavy whipping cream
6 tablespoons (84 grams) unsalted butter, cubed and softened
Instructions
In a medium saucepan, heat sugar and 3 tablespoons (45 grams) water over medium heat until sugar is dissolved. Increase to heat to high, and use remaining 1 tablespoon (15 grams) water to brush down sides of pan. (Do not stir once it starts to boil.) Cook until desired light amber color is reached. Remove from heat; slowly add warm cream, whisking to combine. Add butter, a few pieces at a time, whisking until combined. Let cool completely.
Customer Reviews (0)
Products Used