---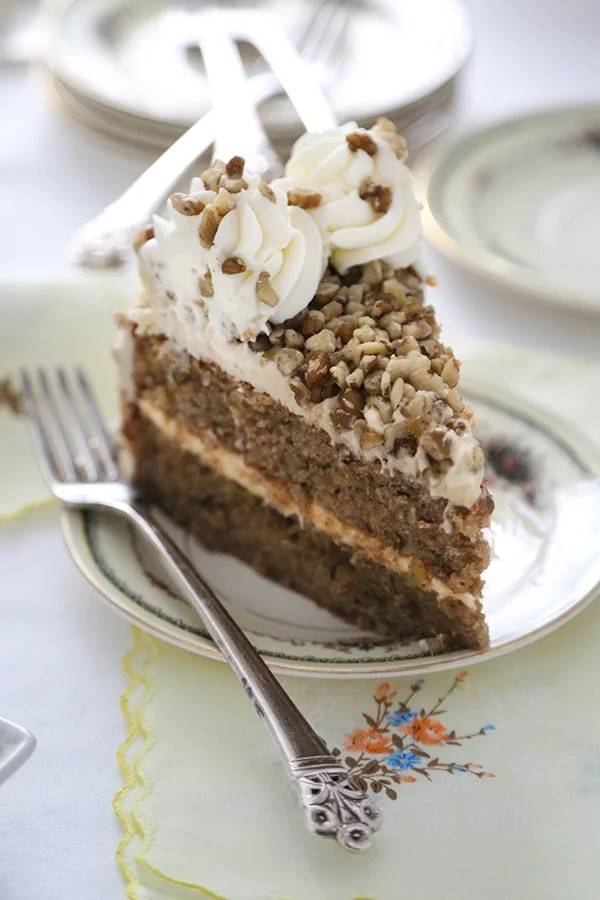 No reviews yet. To leave a review, please log in.
Prep Time: 1 hr
Cook Time: 45 misn
Servings: 12
Equipment: 8-inch cake pans
Ingredients
Cake Layers
2 cups all purpose flour
1 teaspoon baking soda
1/4 teaspoon salt
2 teaspoons cinnamon
3/4 cup unsalted butter softened
1 1/2 cups granulated sugar
2 eggs well beaten
4 whole bananas overripe
1/2 cup buttermilk
1 teaspoon vanilla extract
1 cup black walnuts chopped
Caramel Frosting
1/2 cup unsalted butter
1 cup light brown sugar
1/3 cup heavy cream plus more if needed
1 tablespoon vanilla extract
4 cups confectioners' sugar
1 1/2 cups black walnuts finely chopped
Cream Cheese Frosting
1/2 cup unsalted butter softened
1 oz. cream cheese softened
2 to 2 1/2 cups confectioners' sugar
3-4 tablespoons milk or cream to thin
1 tablespoon black walnuts finely chopped
Instructions
For the cake layers
Preheat oven to 350°F. Spray two 8- or 9-inch cake pans withflour-based cooking spray (or grease and flour) and set aside.
In a medium bowl, sift together flour, baking soda, salt and cinnamon in a separate bowl. In the bowl of an electric mixer, cream the butter and sugar thoroughly. Blend in bananas, eggs and vanilla. Add the flour mixture alternately with buttermilk until well incorporated, then fold in walnuts. Divide the batter evenly between the prepared pans and bake for 35 minutes for8-inch pans, or 30 minutes for 9-inch pans, or until a toothpick inserted into the center of a cake comes out clean. Cool in pans on a cooling rack for 10minutes, then turn out of pans to cool completely.
For the caramel frosting
Melt the butter in a saucepan over medium heat on thestovetop. Add brown sugar and heavy cream, stirring until sugar is dissolved,about 5 minutes. Remove from heat and add vanilla extract. Transfer the mixtureto the bowl of an electric mixer while still warm and melted. Beat onmedium-low speed while adding powdered sugar a little a time; mix until smoothand thick. Add additional heavy cream a tablespoon at a time until the frostingis of easy spreading consistency. This frosting firms quickly, almost to afudge-like state, so work quickly to frost the cake.
Place a small amount of frosting on the center of a cakeplate to keep the cake from shifting. Place one layer on the cake plate, andapply a layer of frosting. Top with the other cake layer, and frost the outsideand top of the stacked layers. If the frosting begins to set up, add more heavycream and re-whip to soften. Immediately press chopped black walnuts onto thetop and sides of the cake, before frosting sets up.
For the cream cheese frosting
Combine the butter and cream cheese in a large bowl and whip until fluffy with an electric hand mixer. Add confectioners' sugar a little ata time until a thick, fluffy frosting forms; add milk or cream to thin as needed. Transfer the frosting to a piping bag with a large closed star piping tip. Pipe swirls of cream cheese frosting on the top edge of the cake. Garnish with black walnuts.
Recipe courtesy of sprinklebakes.com
Customer Reviews (0)
Products Used