---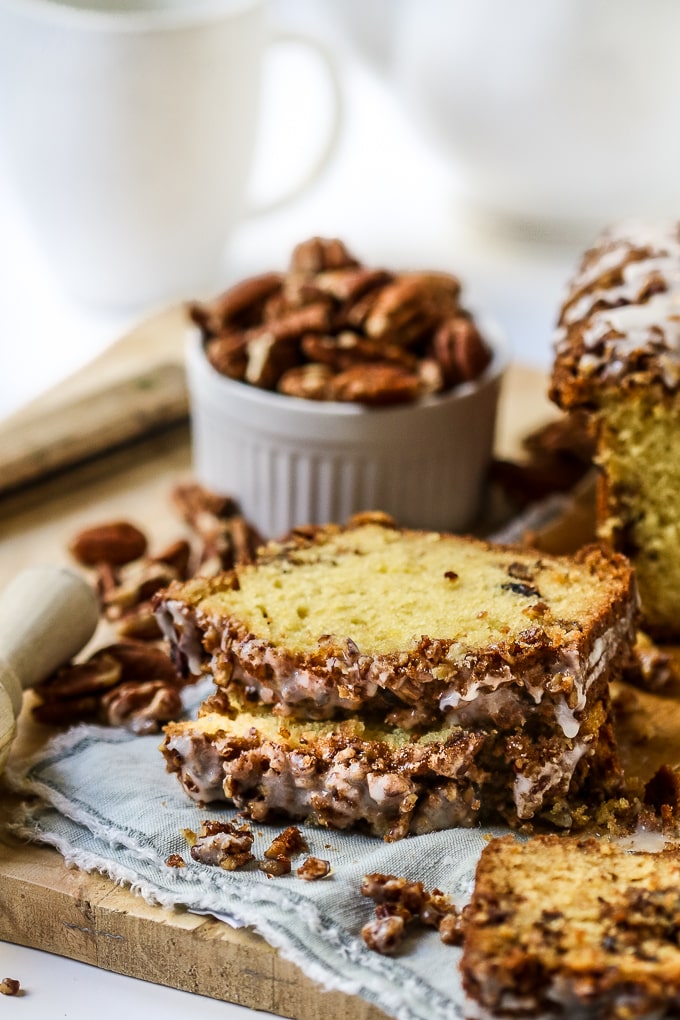 Somewhere over the last 20 years of being an avid home-baker, I realized that quick breads are a secret weapon:
They're versatile -- Very few baked goods can double as both a dessert or a breakfast.
They're easy -- No special equipment needed. Quick breads are usually a one or two bowl (max) baking project. You don't even need to break out the hand mixer.
They're perfectly portioned -- Yes, it's nice to have a big show-stopping Pecan Spice Cake on special occasions, but for day-to-day sweet treats, the loaf pan size of a quick bread is just enough, but not too much.
They're suited for gift giving -- Wrap a quick bread in a bit of parchment or foil, tie a bow around it and you can share a little something sweet from your kitchen. No box or wrapping needed.
… or, you can simply save the loaf for yourself and enjoy it all week long. That's what my family has been doing since I first developed this Lemon-Pecan Streusel Bread for Sunnyland Farms.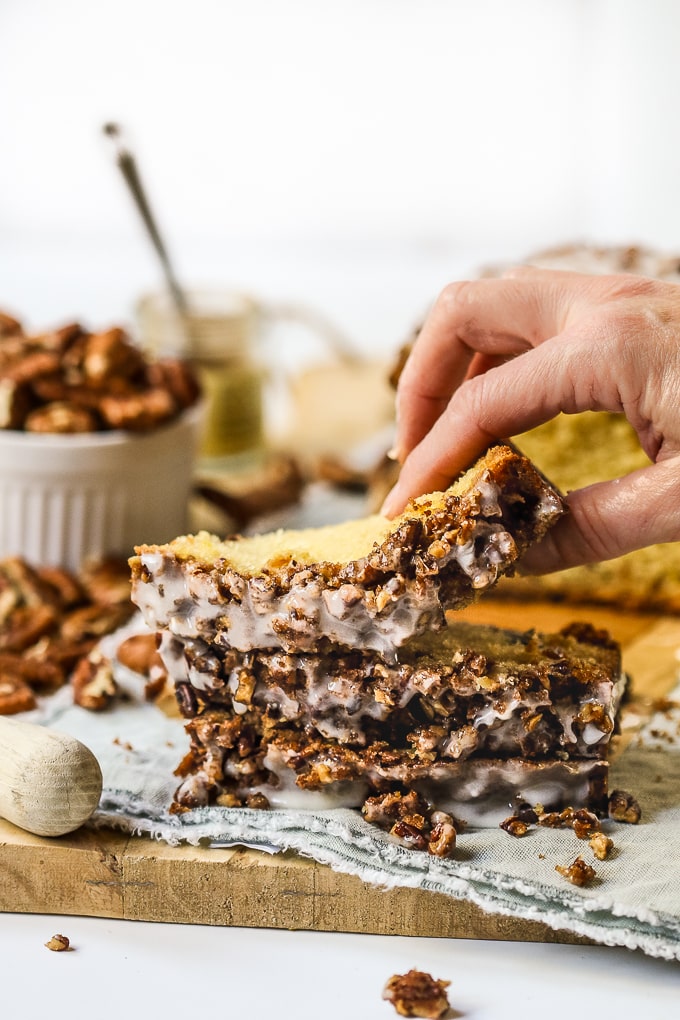 We've enjoyed it for breakfast and snack time as is, but we've also topped it with fresh strawberries and whipped cream (think: the best strawberry-pecan shortcake you've ever tasted!)
While people often associate fresh from the orchard Georgia Pecans with traditional favorite pecan desserts like Pecan Pie Bars or Pecan Pralines, they're also wonderful when paired with fresh & bright summer flavors like lemon, as well. The moist and tender crumb of the lemon bread (thanks to the help of a little sour cream in the batter) is the perfect texture pairing with the crunch of the streusel topping. And with streusel both INSIDE and OUTSIDE, this quick bread gives you a tasty of something in every bite -- from top to bottom.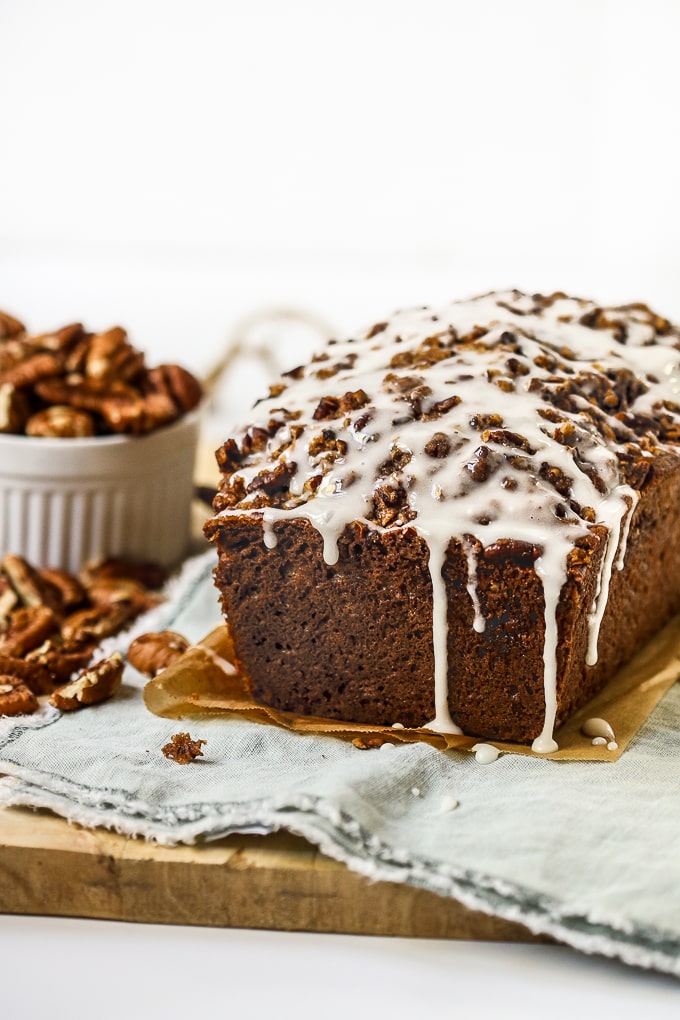 So the next time you're in the mood to bake something special, but don't want to spend all day in the kitchen, Lemon-Pecan Streusel Bread is the recipe to choose. If you'll keep it between just the two of us, it can still be our "secret" weapon.
Quick Bread Recipe: Lemon-Pecan Streusel Bread
Makes: 1 loaf
Prep time: 10 minutes
Cook time: 60 minutes
Bread:
3/4 cup oil
3/4 cup sugar
2 large eggs
1 cup sour cream
1 tablespoon grated lemon zest
1/2 teaspoon lemon extract (optional)
2 cups all-purpose flour
1 teaspoon baking soda
1/4 teaspoon salt
Streusel:
1/3 cup packed brown sugar
1 teaspoon ground cinnamon
2/3 cup Sunnyland Small Pecan Pieces
2 tablespoons butter, softened
1 tablespoon all-purpose flour
Icing:
1 tablespoon fresh lemon juice
1 cup powdered sugar
1 - 2 tablespoons sour cream
Preheat oven to 350 degrees F. Line a loaf pan with parchment paper and coat with cooking spray (or grease and flour pan, if preferred.)

Cream together oil and sugar; beat in eggs one at a time. Add in 1 cup sour cream, lemon zest and lemon extract, if desired.

In a separate bowl, whisk together flour, baking soda and salt. Stir into wet ingredients until blended. Pour half of batter into prepared pan.

Combine Streusel ingredients and sprinkle half of streusel over batter; top with remaining batter. Top with remaining Streusel.

Bake for 50 - 60 minutes. (Be careful to check on bread at earliest time to ensure pecans are not getting too toasted.) Bread is done when a wooden pick insert into center of loaf comes out mostly clean.

Let bread cool at least 10 minutes in pan on a wire rack. Remove from pan.

Meanwhile, combine Icing ingredients. (If Icing is too thin, add more powdered sugar; if too thick, add more lemon juice.) Once bread has cooled, drizzle Icing over loaf.
~Guest Post by Regan Jones, RDN, ACSM-CPT
Host and Blogger at This Unmillennial Life
Products Used