---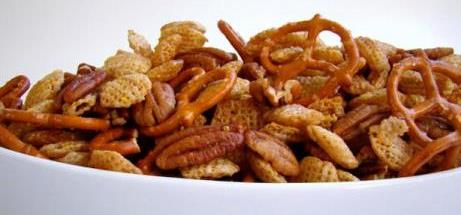 No reviews yet. To leave a review, please log in.
Ingredients
Non-stick cooking spray
4 cups cereal squares (rice, corn or wheat)
4 cups small pretzel twists or sticks
2 cups Sunnyland Royal Mix, coarsely chopped
1/2 cup butter, melted
1/2 cup Honey
Instructions
Preheat oven to 350°. Coat a 9" x 13'' baking dish with cooking spray. Combine cereal, pretzels and nuts in baking dish.
In a small bowl, combine butter and honey. Pour over cereal mixture, tossing lightly to coat evenly. Bake, stirring frequently, until crispy and caramelized (45-50 min.). Cool. Makes 2 1/2 quarts. Store tightly covered.
Recipe Picture from Food.com
Customer Reviews (0)
Products Used