---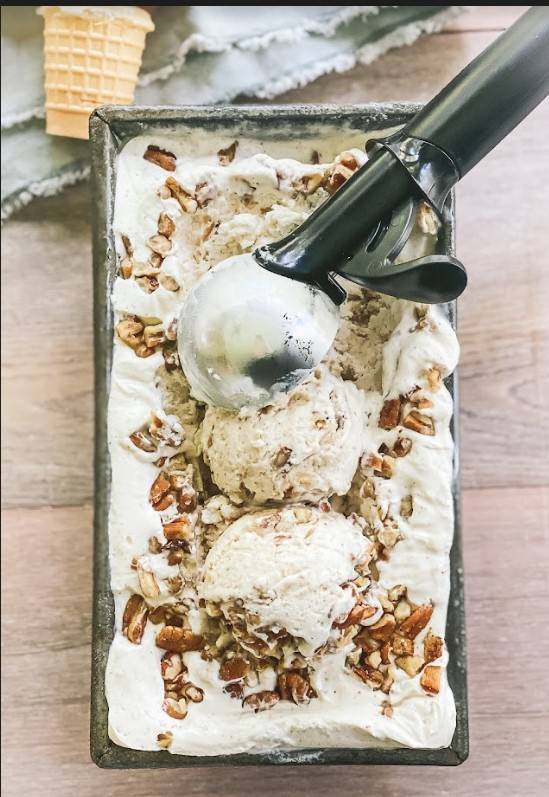 No reviews yet. To leave a review, please log in.
When my husband and I first started dating, we would spend time over the summer at his grandparents' lake house. At some point, the topic of homemade ice cream naturally came up.
He - the devoted grandson - was totally enamored with his Nana's homemade ice cream.
I - the aspiring (and somewhat neurotic) young dietitian - was less than excited to try it... when I found out it was made with raw eggs.
Now, in his Nana's defense, making ice cream with raw eggs was a very traditional and common practice. And let's be honest -- most Nanas worth their weight in ice cream wouldn't dare dream of changing a time-honored family recipe. I get this now and respect her preservation of tradition.
Homemade Butter Pecan Ice Cream Recipe (No Cooking, No Churning - No Raw Eggs!)
That said, I cared nothing then (or now) about eating ice cream made with raw eggs. (Food safety is truly at the top of my culinary list of basic needs in a recipe.)
But I can also see why not having to cook the egg mixture for an ice cream is appealing for most home cooks.
And that brings us to the brilliance of this NO COOK BUTTER PECAN ICE CREAM! While it skips the cooking (and churning) steps, it also skips the raw eggs. Win-Win.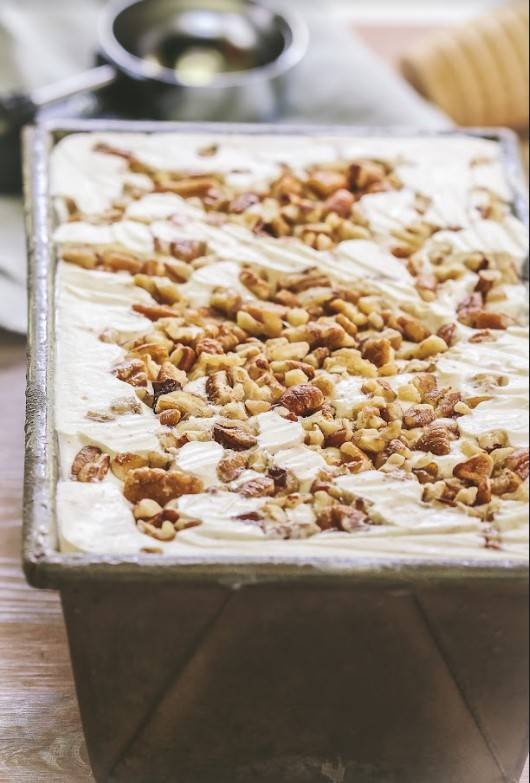 Butter Pecan Ice Cream 101
Before I jump into HOW I made it "no cook", let's talk a little bit about butter pecan ice cream in general.
What is butter pecan ice cream made of?
As is the case with most basic ice cream recipes, butter pecan ice cream typically starts with a custard base (made with whole milk or cream, sugar and eggs or egg yolks) to which toasted pecans (toasted in a few tablespoons of butter over medium-low heat) are added. This No Cook Butter Pecan Ice Cream skips this custard making step AND the butter toasting of the pecans. By using heavy whipping cream and Sunnyland's Pecan Butter, I was able to create a super easy, creamy and subtly pecan tasting ice cream with less fuss and easier prep.
Why does this recipe use pecan butter rather than buttered pecans?
Simply put, it's easier, requires no cooking, and tastes amazing! Sunnyland's Pecan Butter is made with the same high-quality pecans Sunnyland is known for… plus a touch of butter (hello, buttered pecans) and a dash of Wildflower honey. There's truly nothing quite like it. It provides a subtle perfectly pecan richness to the ice cream with virtually no effort at all.
How to make easy butter pecan ice cream?
Do you find cooking custard to be cumbersome? If so, any traditional butter pecan ice cream recipe should be easy for you. I personally prefer not to have to make a custard base for ice cream, especially knowing that I can create a thick, rich ice cream base in just a few easy steps with a few simple ingredients. Cooking a custard ice cream base for butter pecan ice cream (or any ice cream for that matter) isn't complicated. But it does involve carefully tempering (or bringing your eggs up to a high enough temperature to thicken them and kill any harmful bacteria) WITHOUT making the mistake of "scrambling" them. My no cook pecan ice cream recipe below requires none of that.
Is there butter in butter pecan ice cream?
Yes, but it's often not as much as you'd think, based on the homemade butter pecan ice cream recipes that I've reviewed. In my "no cook" version, no butter is needed. The buttery flavor of the pecan butter imparts all the pecan butter flavor you could ever ask for.
Is "no cook ice cream" the same as "no churn ice cream"?
No. But you will often find the two go hand-in-hand. In just a few simple steps, you start with a heavy whipping cream base for the ice cream (rather than a cooked custard) that's then whipped before placing it in the fridge freezer, essentially eliminating the need to pull out the ice cream maker.
Do the type of pecans used in butter pecan ice cream matter?
Absolutely! If you want the best tasting ice cream, you start with the best tasting ingredients – and now where is that more true than with the pecans you use in butter pecan ice cream. Whereas some ice creams build flavor with tons of ingredients, butter pecan is mostly just a showcase of cream and pecans. Starting with Sunnyland's high-quality pecans ensures the best tasting ice cream every time.
So with all that background, I offer to you the best (and easiest) homemade butter pecan ice cream you'll ever need.
No Cook Butter Pecan Ice Cream Recipe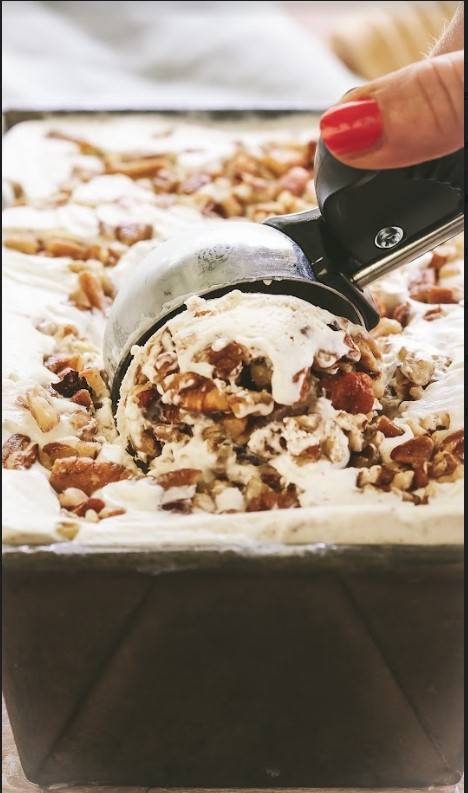 This popular ice cream flavor gets an easy, homemade makeover to create your new favorite homemade ice cream recipe. By skipping both the cooking and churning of traditional ice cream recipes, you have a creamy ice cream flavor - full of rich, buttery pecan taste - in no time.
Ingredients
2 cups heavy whipping cream
1 (14-ounce) can sweetened condensed milk
½ cup Sunnyland Pecan Butter
¾ cup Sunnyland pecan pieces or pecan halves, chipped and divided
1 ½ teaspoons vanilla extract or maple extract (optional)
Pinch of salt
Instructions
Pour 2 cups of heavy cream and 1 ½ tsp vanilla (or maple) extract into a large mixing bowl or stand mixer. Using hand mixer / electric mixer or whipping attachment for stand mixer, beat cream on medium-low speed for 1 minute. Increase to medium speed and beat 1 additional minute. Increase to high speed and beat just until relatively stiff peaks start to form. Do not over beat.
In a separate medium bowl, stir together sweetened condensed milk and pecan butter. Fold the whipped cream into the pecan butter mixture with a rubber or silicone spatula. Fold just until combined. Don't over mix. Add 1/2 cup pecan pieces and mix pecans in gently.
Pour ice cream mixture into a 9- x 5-inch loaf pan or 8- x 8-inch square pan. Sprinkle the remaining 1/4 cup pecan pieces in a single layer over the top.
Cover ice cream with plastic wrap. Then wrap with aluminum foil to create an air-tight container. Freeze at least 4 hours or until finished ice cream is firm enough to scoop. (If freezing overnight you will get a hard ice cream, but it will soften easily at room temperature in 10 - 15 minutes.)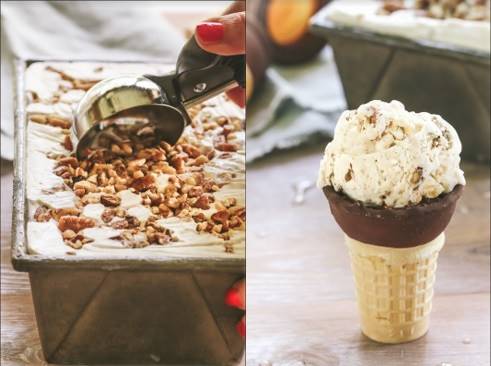 Customer Reviews (0)
Products Used