---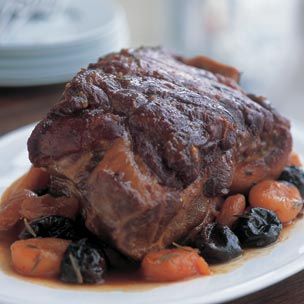 No reviews yet. To leave a review, please log in.
Ingredients
2 Tbsp. shortening
1 - 4 lb. beef chuck-eye roast, boneless
2 medium onions, sliced
1 cup apple cider
2 Tbsp. brown sugar
Salt and pepper to taste
1/4 tsp. ground cloves
1 1/2 cups Sunnyland Apricots
1 1/2 cups Sunnyland Pitted Prunes
2 Tbsp. all-purpose flour
1/4 cup water
Instructions
In Dutch oven over medium-high heat, in hot shortening, brown chuck roast until well browned on all sides. Add onions, apple cider, brown sugar, salt, pepper and cloves; heat to boiling.
Reduce heat to low; cover and simmer 3 1/2 hours or until meat is almost fork-tender, turning meat occasionally; add more cider if necessary. Add apricots and prunes to mixture. Continue cooking 20 minutes or until meat is fork-tender.
Place meat on warm platter. Blend flour and 1/4 cup water until smooth; gradually stir into pan liquids and cook over medium heat, stirring constantly, until mixture is thickened. Serve gravy with meat. Serves 12-14.
Recipe Picture from yummly.com
Customer Reviews (0)
Products Used