---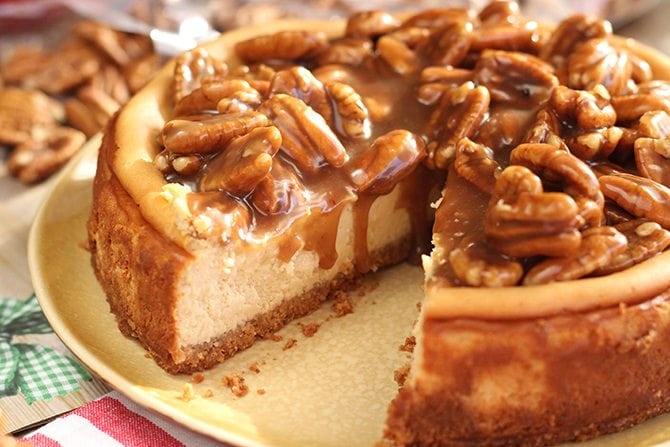 No reviews yet. To leave a review, please log in.
Prep Time: 20 mins
Cook Time: 1 hr
Total Time: 1 hr 20 mins
Servings: 8 to 10
Ingredients
9 full sheets of graham crackers crushed (about 1 1/2 cups crushed)
1/2 cup finely chopped pecans
4 tablespoons butter, melted
4 (8-ounce) packages cream cheese, softened
1 1/4 cups firmly packed light brown sugar
2 teaspoons vanilla extract
4 eggs
For the topping:
2 cups pecan halves
4 tablespoons butter
1/2 cup firmly packed light brown sugar
2 tablespoons light corn syrup
1/3 cup heavy cream
Instructions
Preheat the oven to 350°F. Lightly spray a 9-inch spring-form pan with nonstick cooking spray.
In a medium bowl, combine the crushed graham crackers, pecans, and butter. Stir well. Pour the mixture evenly into the bottom of the spring-form pan and press firmly to create a crust.
In the bowl of a stand mixer (or with a bowl and hand mixer) combine the softened cream cheese, brown sugar, and vanilla until well combined. Add the eggs and mix well.
Pour the batter onto the crust. Lightly tap the pan on the counter to get out any air bubbles.
Bake for 40 to 50 minutes, or until the center in almost completely set. Cool and then refrigerate overnight to allow the cheesecake to firm up before serving (or at least 3 hours for those impatient folks).
To make the topping, preheat the oven to 325°F and spread the pecans on a rimmed baking sheet. Bake them for 7 to 10 minutes or until just fragrant. In a medium saucepan, combine the butter, brown sugar, and heavy cream. Cook until bubbly, then stir in the toasted pecans. Cool to room temperature before pouring over the cooled cheesecake.
Customer Reviews (0)
Products Used