---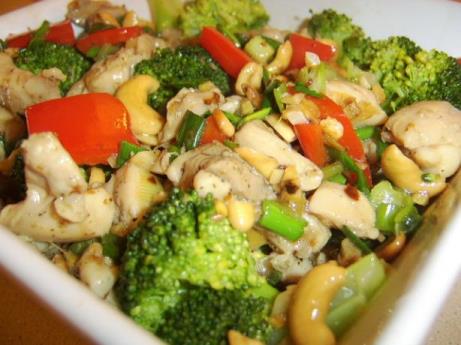 No reviews yet. To leave a review, please log in.
Ingredients
1 bunch scallion
1 lb boneless skinless chicken thighs
1/2 tsp salt
1/4 tsp black pepper
3 Tbsp vegetable oil
1 red bell pepper, chopped
4 garlic cloves, finely chopped
1 1/2 Tbsp finely chopped peeled fresh ginger
1/4 tsp hot red pepper flakes
3/4 cup reduced-sodium chicken broth
1 1/2 tablespoons soy sauce
1 1/2 teaspoons cornstarch
1 teaspoon sugar
1/2 cup Sunnyland Toasted Salted Cashews
Instructions
Chop scallions, separating white and green parts.
Pat chicken dry, then cut into 3/4-inch pieces and toss with salt and pepper.
Heat a wok or 12-inch heavy skillet (not nonstick) over moderately high heat until a drop of water evaporates immediately.
Add oil, swirling to coat, then stir-fry chicken until golden in places and just cooked through, 4 to 5 minutes.
Transfer to a plate with a slotted spoon. Add bell pepper, garlic, ginger, red-pepper flakes, and scallion whites to wok and stir-fry until peppers are just tender, 5 to 6 minutes.
Stir together broth, soy sauce, cornstarch, and sugar, then stir into vegetables in wok. Reduce heat and simmer, stirring occasionally, until thickened, 1 to 2 minutes.
Stir in cashews, scallion greens, and chicken along with any juices accumulated on plate.
Recipe Picture by food.com
Customer Reviews (0)
Products Used