---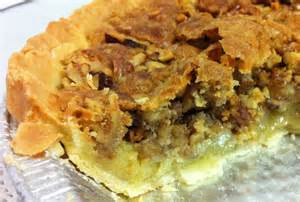 No reviews yet. To leave a review, please log in.
Ingredients
1 cup butter, melted
3 Tbsp. flour
1 cup sugar
1 cup Sunnyland Small Pecan Pcs.
1 cup Sunnyland Golden Raisins, soaked in warm water for 10 min. to plump
3 egg yolks
3 Tbsp. water
1 (9") pie crust, unbaked
Instructions
Mix ingredients well and pour into pie crust. Bake in a preheated 350° oven for approximately 25-35 minutes, or until top is crusty and golden brown. Serves 8.
NOTE: Reserve the 3 egg whites for meringue topping, or top with whipped cream.
Recipe Picture from allrecipes.com
Customer Reviews (0)
Products Used