---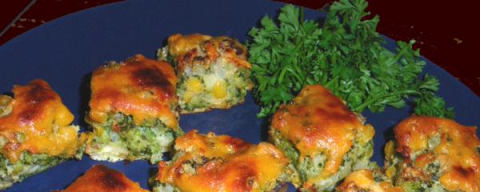 No reviews yet. To leave a review, please log in.
Ingredients
10 ounces frozen chopped broccoli
8 ounces whole kernel corn, drained
1/4 cup chopped onion
1/2 cup Sunnyland Small English Walnut Pieces
1/2 cup milk
1/4 cup butter, melted
2 eggs
1/2 cup Bisquick
1/4 teaspoon garlic salt
1 cup cheddar cheese, shredded
Instructions
Heat oven to 375°. Grease a 9 x 9 x 2" pan. Mix the broccoli, corn, onion and walnuts. Place in the pan.
Beat the remaining ingredients except for the cheese until smooth, stopping frequently to scrape down the sides of the mixer if necessary.
Pour evenly into the pan on top of the vegetable mixture.
Bake until a knife inserted into the center comes out clean, about 23-25 minutes.
Sprinkle with the cheese. Bake until the cheese is melted, 2-3 minutes longer.
Cool for 30 minutes, then cut into triangles or squares.
Recipe Picture by Bergy on Food.com
Customer Reviews (0)
Products Used
FAQ's
Are Raw Walnuts ready and safe to eat?
Yes, our Walnuts are ready to eat and always raw. We never toast or salt our tasty, delicious Walnuts.