---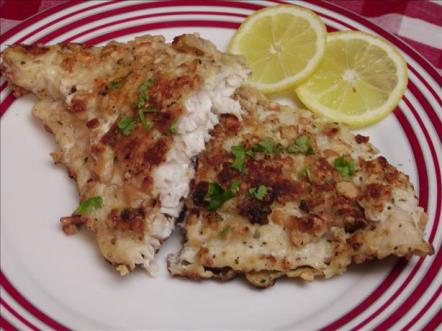 No reviews yet. To leave a review, please log in.
Ingredients
1/4 cup all-purpose flour
1/2 teaspoon salt
1/4 teaspoon fresh ground pepper
1/2 teaspoon dried basil
1 egg
1 tablespoon water
2 tablespoons powdered milk (instant)
3/4 cup cashews, chopped
3/4 lb catfish fillet ( 2)
1 Tbsp butter
1 Tbsp olive oil
Instructions
On a plate, combine flour, salt, pepper and basil.
In a bowl,whisk together egg, water and powdered instant milk.
On another plate, place chopped cashews.
Dredge catfish fillets in flour mixture, dip into egg mixture and coat with chopped cashews.
Heat butter and olive oil in a nonstick fry pan, over medium high heat; fry catfish fillets until golden brown, turn carefully and brown on the other side. (About 4 minutes on each side)
Serve hot with lemon wedges.
Recipe Picture by Rita on food.com
Customer Reviews (0)
Products Used