Home
/
Pecan News & Blog - Pecan Industry Updates
/ "I Love Shipping"
"I Love Shipping"
Finally a chance to pause for a moment and reflect on this past year. Many of you already know, but if you did not… The holiday season is the busiest time of the year for us; and, this year was no exception. For that we owe our sincere thanks and appreciation to each of you our valued friends/family/customers.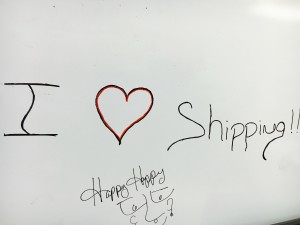 Throughout my career here at Sunnyland Farms, I have heard the story numerous times of Mr. Willson holding Mrs. Willson up so that she could squeeze one more package on the UPS trailer before the driver was allowed to pull off. As the Shipping Manager, I understand the significance of that moment. Personally, at the end of the day, there is/was no greater feeling than when you know you have done absolutely everything within your power to get every package on its way. It's a great feeling when at the end of the day you know the job was well done.
I have a board that is positioned on the wall and it is the last thing that I see as I leave my office. On day five as the new Shipping Manager, I wrote "I Love Shipping!!!" One full year later as I reach to turn off the lights at the end of the day… with a SMILE, I read my board out loud and say "I Love Shipping!!!" Honestly, I love it more today and for that I have to say THANK YOU to each of you!!! You? Yes you… our wonderful Sunnyland friends/family/customers!!!
If you have a moment to spare, please share with us a memory or two of Sunnyland. You have already given us so many wonderful memories and we're looking forward to many more. Again, thank you from all of us here at Sunnyland Farms and Willson Farming Company.